Funniest Student
Part One: Laughing at the competition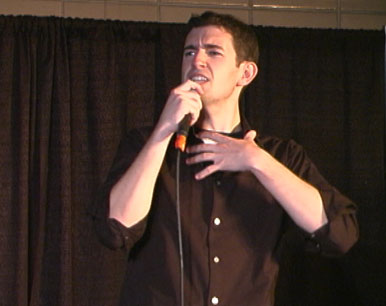 Click the photo above to watch a video of the first three finalists in the Funniest Student Competition. Stay tuned tomorrow for part two, featuring the performance of winner Steve Macone (COM'07).
Following a 10-minute delivery of fast-paced one-liners, College of Communication senior and part-time stand-up comedian Steve Macone was named Boston University's king of comedy at the second annual BU Central Funniest Student Competition on October 13.
Sponsored by the Student Activities Office, the event is similar to the reality television series Last Comic Standing and American Idol. A panel of three judges — David Zamojski, director of the Office of Residence Life, Daryl Deluca, director of the Office of Judicial Affairs, and Kate Guastaferro (CAS'08) — eliminated 6 of the 12 comedians in the preliminary round, held on September 30, and audience members selected the winner in the final competition. The event was emceed by veteran comedienne Laura De Veau (CGS'87, COM'89, SED'95), assistant director of the Office of Residence Life.
Anyone who missed Macone's act can catch an 8 p.m. encore performance at the George Sherman Union Metcalf Ballroom on Tuesday, November 7. As the competition winner, Macone will open for comedian Dave Coulier, who played Joey Gladstone on Full House.
For more information, call the Student Activities Office at 617-353-3635, or click here.