End of the Line for Free T
What fare increases will mean to BU students and the MBTA
For the past year, the MBTA has been warning of mounting transit costs and imminent fare hikes, so it was no surprise when T officials announced a fare increase of more than 30 percent earlier this month. Effective January 1, 2007, subway fares will increase from $1.25 to $1.70, and bus fares will go from 90 cents to $1.25. Riders who don't use the new automated-fare CharlieCards will pay even higher per-ride fares — as much as 75 cents more for a single subway trip. The T also plans to do away with free service for outbound riders on the Green Line and Red Line exit fares between Quincy and Braintree.       
While hardly unexpected, the news was greeted with little enthusiasm. The increase marks the third time in six and a half years that the MBTA has hiked fares, most recently in January 2004, when subway fares rose from $1 to $1.25 and bus fares went from 75 to 90 cents. T officials cite an $8.1 billion bonded debt, declining state tax revenues, and rising employee and energy costs for their decision. Next year's fare increase is predicted to generate $70 million more a year.
The plastic CharlieCard and paper CharlieTicket will replace all tokens, and the LinkPass — which costs $59 a month and includes service on buses and the subway — will replace all monthly subway and combo passes. Currently, a monthly subway pass costs $44, a bus pass $31, and a combo pass $71.
The T, which is the nation's fourth-largest public transit system and averages 1.1 million passengers each workday, currently charges considerably less than systems in other cities. In New York and Philadelphia, a subway or bus ride costs $2, and in Washington, subway charges range from $1.35 to $3.90, depending on destination and time of day traveled. In Chicago, riders with a Chicago Card (comparable to the CharlieCard) pay $1.75 for both bus and rail, while those using cash pay $1.75 for the bus and $2 for the train.
The majority of Boston University students regularly use the T, and they will undoubtedly be affected by the fare increase. BU Today spoke to David Weil, a professor of finance and economics in the School of Management, who specializes in public policy, to find out what impact the MBTA's decision might have on the BU community.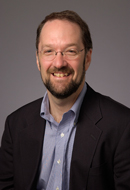 David Weil, SMG professor
of finance and economics.
Photo by Kalman Zabarsky
BU Today: How do you predict the fare increase will affect students, staff, and faculty members at BU?
Weil: The question of the impact of a fare increase from an economics perspective is a question of what options people have to using the subway service. The more options people have, the more likely that you will see a fare increase lead to decreases in ridership. So faculty and staff members who rely on public transportation to get to work will be less likely to stop using the T and just grit their teeth and live with the higher fare than a student who always has the option of hoofing it from Central to West Campus. 
Do you think the fare increase will result in fewer MBTA riders?
Well, if you raise prices, the quantity demanded is going to go down. But in this case, I don't think it's going to go down that much. Experts I know forecast that ridership may decline by 5 percent or so in the short term, but I also expect overall revenues will go up. And by making the system more solvent through enhanced revenues, officials could improve the system, thereby making it more attractive for increased use in the long term.
Why will revenues go up if ridership goes down? And if revenues do improve, do you believe the fare increase will prevent an operating deficit for next year?
From the T's perspective, the percentage of ridership it will lose from the fare increase will be offset by the percentage increase it will recover from the higher prices. That's the basic principle of raising prices when you face inelastic demand. By doing so, you will generate more revenue for the T. But because the T receives a significant portion of its budget from other sources, I would doubt that this alone will cover its deficits. It's important to understand that public transit systems are highly subsidized systems, and the T is no different.
All free outbound service on the Green Line will end. What impact do you foresee that having on the BU community?
I suspect it will affect students' willingness to invest in monthly T passes. I also suspect there will be a lot less spur-of-the-moment jumping on to ride just a few blocks up Comm Ave. 
With the cost of gasoline steadily rising and more commuters using the T, does it make sense for MBTA officials to raise T fares? Why or why not?
Well, that depends on whether you're looking at a short- or long-term view. The fact that gas prices have recently fallen means that people are more likely to be using their cars (once again, it's all about options). But in a longer-term sense, as gas prices continue to move slowly upward, people who depend on public transportation are going to be that much more reliant on it, which again suggests that there are probably a significant number of people who won't stop riding, even with this fare increase.
Do you think the new CharlieCards and CharlieTickets will expedite T travel or simply confuse riders?
Well, I must admit I've been totally flummoxed by the paper tickets they give you now. I suspect there will be some initial confusion, but people will get used to it. Even absent-minded professors. 
How does the MBTA compare to mass transit systems in other U.S. cities?
There are a lot of public transportation people who say the model of public transportation in terms of fares should be more like Washington's Metro, which charges different fares depending on the time of day and the distance traveled. Washington's Metro charges a higher fare during rush hour, which irritates some people, but think about it — if more people wait an hour to receive the lower fare, it leaves the subway more open for people who really have to be downtown at 9 a.m. Thus, the Metro is less congested during peak periods. The fare policy allows the system to improve performance by having people sort themselves according to the value they place on their time.    

Vicky Waltz can be reached at vwaltz@bu.edu.