Dissecting the German Avant-garde
COM hosts international conference on filmmaker Matthias Müller (with video)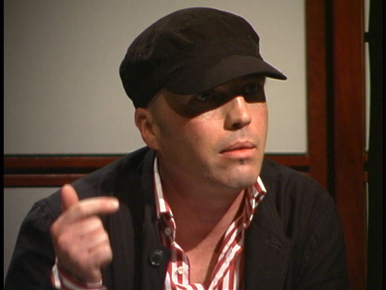 Click on the photo for a video on Matthias Müller and his works.
On September 29 and 30, film buffs were treated to the U.S. premiere of Kristall, Matthias Müller's latest work with longtime collaborator Christoph Girardet, which won the Canal Plus (experimental short) at this year's Cannes International Film Festival. Müller, one of Germany's best-known avant-garde filmmakers, was the guest of honor at an interdisciplinary conference and retrospective on his works.
The conference, hosted by the College of Communication's department of film and television and the Goethe-Institut Boston, included screenings of all Müller's films —a unique opportunity for attendees as some of the films are shown exclusively in galleries and installations. Discussions with film scholars and art historians alternated with the screenings.
"Our conference is really the first conference on Müller, definitely in the United States, possibly around the globe," says Roy Grundmann, a COM assistant professor of film studies and director of the event. "We would like to talk about how his work can be seen as cinema work and also how his other works are relevant to contemporary art history."
Film and media scholars, art historians, and critical theorists alike came from Canada, Brazil, Switzerland, Germany, and across the United States to speak on Müller's large body of work. "Matthias' work is extremely varied," according to Grundmann. "He came out of the Super8 scene in the 1980s, worked a lot in found footage, lyrical exploration of the self, and issues of biography that have to do with Germany. He's also become a gallery artist."
Müller's work comes in the form of shorts, loops, and installations and ranges across a broad spectrum of media, including Super8mm, 16mm, and digital video. "My work is located between two extremes," Müller says. "On one hand, the reference to my own life story, my biography — on the other hand, the use of appropriated materials, sounds, and images from different spheres and historical phases of film production."