BU researchers find common genetic link to obesity
Variant occurs in 10 percent of people of European and African descent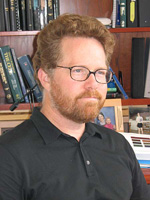 Michael Christman
Researchers at the Boston University School of Medicine have discovered a genetic variant that may predispose 10 percent of people of European or African descent to obesity. Results of their study, published this month in Science magazine, could help scientists develop better drugs to treat the disease.
Michael Christman, senior author of the study and chairman of the MED department of genetics and genomics, says scientists have known for some time that genetic makeup determines about 50 percent of an individual's chances of becoming obese, but until now relevant studies were family-based, focused on rare disorders, and did not apply to the general population.
"The big payoff from these kinds of studies," Christman says, "is that it helps us define genetic pathways that make people heavier that are truly common, a finding that could have substantial public health impact."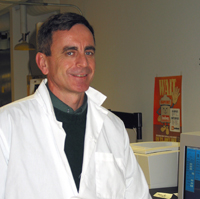 Alan Herbert
Using information gathered over a 24-year period from the Framingham Heart Study, the landmark National Heart, Lung, and Blood Institute epidemiological study begun in 1948 and run by BU since 1971, an international team of scientists led by researchers in MED's genetics and genomics department used a new technology called Affymetrix GeneChip Mapping microarray to scan entire genomes for genetic variations. The microarry method allows researchers to scan an entire genome looking for a specific variant, marking a major advance from previous technologies that required scientists to search for such variations one gene at a time. The research produced about two billion printed pages worth of data, gathered and managed by Marc Lenburg, a MED research assistant professor and director of bioinformatics technology, and Norman Gerry, a research assistant professor and director of MED's Microarray Core Facility.
The MED research team worked with researchers at the Harvard School of Public Health, who developed methods used in the analysis. The findings were also tested in other populations, in Germany, in Chicago, and at Children's Hospital in Boston. Collectively, the studies showed that 10 percent of the populations of European and African descent are genetically predisposed to obesity, regardless of sex or age.
Christman says the newly discovered gene variant has probably been present in humans for more than 75,000 years, but the fact that modern lifestyles have largely eliminated a scarcity of calories, as well as other environmental factors, has allowed it to express itself. "A hundred thousand years ago, the gene probably had no impact," he says. "People were trying not to starve to death."
Understanding the genetic influence on obesity could help people with other common diseases for which obesity is a risk factor, such as type 2 diabetes, heart disease, stroke, hypertension, and some types of cancers.
"This is really the tip of the iceberg of these findings," Christman says. "The data from the Framingham Heart Study is very rich. It measures body mass index, obesity, levels of cholesterol, and risk of heart and lung disease."

Alan Herbert, lead author of the study and a MED assistant professor of genetics and genomics, says the obesity study was a pilot project that was intended to show the National Institutes of Health (NIH) that they could get this technology to work. "And we did," he says.
"Previously, we have lacked the sufficient resolution and power for these types of analyses," Herbert says. "This changes the whole shooting match."
Herbert hopes to use the microarray technology to test for other common variants, such as high blood pressure, high cholesterol, or diabetes. He says the NIH also recognizes this potential and plans to fund further studies, whose results would be made available to the scientific community at large through the Genetic Association Information Network (GAIN).
Click here to see a link that includes a video in two parts of Herbert and Christman discussing the study and the technology they used, produced by the Affymetrix GeneChip Mapping company.