BU Alums Shine in BBJ's 40 under 40
Seven recognized in journal's annual list of top young execs
Every year since 1998, the Boston Business Journal has chosen 40 of the region's "leaders of tomorrow" — up-and-coming executives, entrepreneurs, and innovators under the age of 40. This year, 7 of the 40 rising stars are Boston University graduates.
"No question, the high number of '40 Under 40' winners is a tribute to the depth and breadth at BU and the important role BU plays in the regional economy," says George Donnelly, BBJ editor.
Last month, the respected industry weekly printed a special supplement profiling the leaders. Donnelly tells readers that the list honors "the risk-takers, the deal-makers, the brilliant counselors" — those on the leading edge of the Boston-area economy (which, if it were a country's, would be the 22nd largest in the world).
Photo courtesy of Ross Capobianco
Ross Capobianco (COM'96), 37-year-old president of Home Instead Senior Care, walked away from a six-figure salary at a tech firm in order to start Home Instead. He works 60 hours a week providing elderly clients with daily assistance — and independence. Home Instead, which lost money its first year, will post a $1 million profit this year. Capobianco received a master's degree in business communication from BU's College of Communication.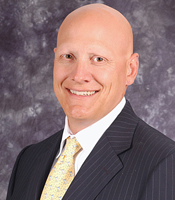 Photo courtesy of Greg Ehret 
As a senior managing director at State Street Global Advisors, Greg Ehret (GSM'99) runs a brisk business in global exchange-traded funds (ETFs). Now 36, Ehret was a researcher for the Republican National Committee in Washington, D.C., in the early '90s. After earning an MBA at the School of Management, he spent a year in Bermuda on an exploratory assignment for State Street before returning to handle the company's fast-growing market in global ETFs.
Photo courtesy of Marlo Fogelman
At 35, Marlo Fogelman (LAW'97, GRS'98) is the principal of marlo marketing/communications. After getting a master's degree in international relations and a J.D. from Boston University, she took a job as a lawyer for Regan Communications. Within a few years, she'd struck out on her own; her company's client list now includes Longwood Events and Savenors Market as well as nonprofits such as the Ellie Fund for Breast Cancer Research and the Boston Public Library.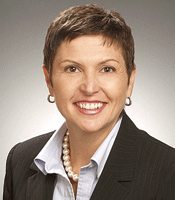 Photo courtesy of Jennifer Harrington
Jennifer Harrington (CFA'92) is a partner and director of client services at Trinity Communications, Inc. Fresh from the College of Fine Arts, where she earned a bachelor's degree in art history, Harrington worked in a gallery on Boston's Newbury Street before joining Trinity. She specializes in branding for clients such as the Seaport Hotel. The 36-year-old also serves on the boards of the Copley Society of Art and ACG Boston and is raising three children with her art-teacher husband in Bedford.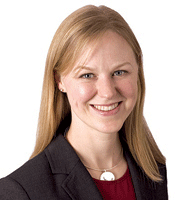 Photo courtesy of Leiha Macauley
An associate at Day Berry & Howard LLP, Leiha Macauley (LAW'01) talked her firm into "adopting" the East Boston Neighborhood Health Center, which is affiliated with Boston Medical Center. Under a program called the Child Health Advocacy Partnership, the firm offers pro bono legal advice to the community. Now 30 years old, Macauley serves as president of the School of Law's Young Alumni Council, mentors teens as a volunteer with the Big Sister Association, and runs marathons to raise money for causes such as the American Liver Foundation.
Photo courtesy of Girish Navani
In 1999, Girish Navani (ENG'91) cofounded eClinicalWorks, a software company that saves thousands of small-practice physicians, and their patients, time and money with programs that allow for more efficient access to medical records. Already, eClinicalWorks is the market heavyweight. Company president Navani, 39, holds a master's degree in mechanical engineering from the School of Engineering as well as a bachelor's in mechanical engineering from Gujarap University in his native India.
Photo courtesy of Serena Powell
Serena Powell (SAR'97) is the executive director of Community Work Services (CWS), a vocational nonprofit organization that places long-unemployed clients — most with disabilities or addictions — in steady jobs. Partnering with the Massachusetts Lodging Association, the Downtown North Business Association, and other business groups, CWS has trained and put to work hundreds of formerly homeless men and women. Powell, 37, has a master's in rehabilitation counseling from Sargent College of Health and Rehabilitation Sciences.
Patrick Kennedy can be reached at plk@bu.edu.