BMC study links chronic disease management with primary health care
$3.4 million NIH grant will fund five years of research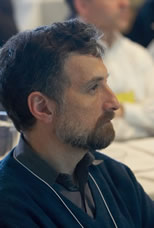 Jeffrey Samet
If you are addicted to a drug and have other related health problems, chances are your addiction treatment is not well integrated with your primary care. That unfortunate likelihood is the target of research now being conducted at Boston Medical Center (BMC) and funded by a new five-year, $3.4 million grant from the National Institutes of Health.  The research is intended to shed light on the benefits of closely linking chronic disease management (CDM) for drug dependence with primary health care; the hope is that such linkage will decrease illegal drug use as well as related health problems.
"CDM has been integrated with primary care for other chronic diseases like asthma and depression and showed improved outcomes," says Jeffrey Samet, MD, chief of general internal medicine at BMC and principal investigator for the grant. "This is a cutting edge of medicine which hasn't yet been applied to drug dependence."
Currently, says Samet, health care for addicted patients is often episodic and fragmented. CDM offers patients steady access to caregivers and social workers with expertise in the particular chronic disease that requires treatment.
"We've shown that we could get drug-dependent people to go to primary care," says Samet, who has done similar research in the past. "Now we need to go to the next level and also get them involved with CDM."
The new grant will allow Samet and his fellow researchers to recruit a cohort of patients with drug dependence, randomize them, and assess them. The grant will support efforts of the Addiction Health Evaluation and Disease (AHEAD) program to create the clinic that will provide CDM; the AHEAD clinic will then work within the primary care service at BMC.
One problem, says Samet, is that many primary care doctors lack training in how to deal with drug problems.  Having a CDM team on hand will help doctors to see connections between the drug use and the problems being addressed by primary care.
"The primary care doctor will still be at the center of the patient's care, but there will be a team in place supporting that," says Samet. "The grant will pay for the assessment and follow-up for one group of patients, which we'll compare to the other group that doesn't have the benefit of the AHEAD clinic."
The grant program, which will serve patients who now receive care at BMC and have drug dependencies on heroin or cocaine, will run alongside a similar program for patients with alcohol dependence. That program, which Samet is also working on, began last fall and is funded by the National Institute of Alcohol Abuse and Alcoholism.
"Our goal," says Samet, "is to answer the question of whether this model of care, which has been shown to be effective for asthma and depression, can be effective for alcoholism and drug dependence." Samet says he will not let his hopes for the program get in the way of clearheaded research. "We're not invested in proving this particular method works," says Samet. "We're interested in investigating scientifically and honestly to see what results we come up with. What we are invested in is improving the care of these patients."