The summer was a busy time as Information Services & Technology (IS&T), the Office of the University Registrar (OUR) and Facilities, Management & Planning (FM&P) worked to improve the teaching and learning experience in 13 classrooms. The following classrooms were upgraded over the summer: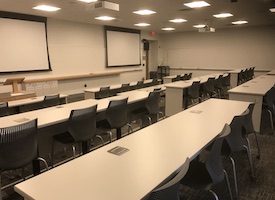 CAS B25A, CAS B25B, CAS B27, CAS 322, CAS 323A, CAS 323B
CAS 325, CAS 424, CAS 426, CAS 427, CAS 425, LSE B01 and
STH B20
All of these instructional spaces are now equipped with full, digital AV/IT presentation systems that support the HDMI standard. They can display images from multiple source options including installed components and personal devices such as your laptop, smartphone or tablet (adapters may be needed). The integrated sources include a Blu-Ray player (that can also play DVDs) and a classroom computer with a login station that offers USB device connections on the monitor. The classroom computers are also loaded with 'classroom capture' software that is capable of recording your audio and content. New, state-of-the-art ceiling mounted laser projectors will run for over 20,000 hours while providing crisp and bright images
Want to see these rooms for yourself? Visit the Classrooms web site at www.bu.edu/classrooms where you will be able to see our new 360 degree classroom images! These images were added to the site by IS&T this summer to give you the opportunity to take a virtual tour of each space. Use the Find a Classroom feature to search for a particular classroom or browse by building. You will also see details including what technology is available and learn more about the physical attributes of each room.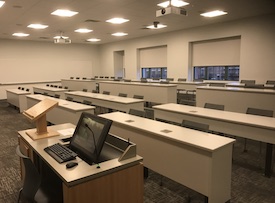 IS&T was also busy on the Fenway campus this summer getting ready for fall classes by doing extensive work on the network and classroom technology in over 30 OUR rooms, including upgrading all classroom computers. Next, we are working on adding 360 images of the Fenway campus classrooms!
If you have questions or would like more information on classroom technology, or support and training, please contact the IT Help Center's Learning & Event Technology Services (LETS) group by sending an email to classrooms@bu.edu or calling 617-353-3227.