Migrating Individual Accounts
Clients who have previously had access to Qualtrics, either through the College of Arts & Sciences or School of Management, can migrate their existing surveys into their new University Qualtrics account.
Begin at the Qualtrics Research Suite
When signing in, select I already have a Qualtrics account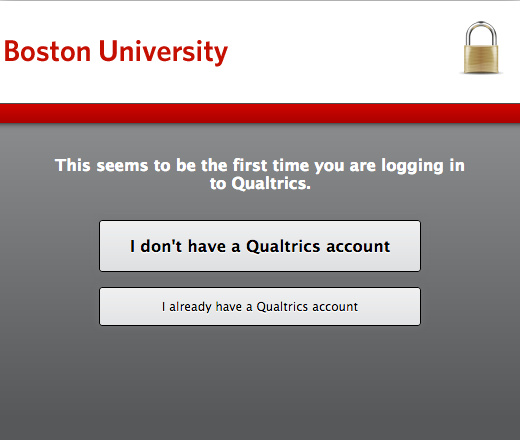 3. When prompted as shown below, enter your Email/Username and Password. Note that "existing login information" means you should use the Email/Username and Password for your current account – the account you wish to migrate.
Migrating Group Accounts
In some cases, several people may have been using a single account.  To preserve a group account:
Apply for a department-sponsored Guest account with "member" privileges.

Be sure to always log in with the group Username.

(Otherwise the first person to access the group account with his or her own BU login name will "own" all group files.)

The Kerberos password will need to be changed annually.
Known Migration Issues
Qualtrics Support has reported the following known issues with migrating existing accounts:
Collaboration will be broken and needs to be re-established once the move has taken place.
Reporting Beta reports will be lost.
The following steps will allow you to keep the Reporting Beta reports (reports in the Reporting Beta tab).
Download a .qrf file that can only be opened in Qualtrics. (Repeat Steps 1-3 for each report.)
Open up a Report
Go to Report Options
Click Save to File
Once the move is complete, create a new report. (Repeat 4-6 for each report.)
Go to Report Options
Select Import Report
Choose the .qrf file