Self Service Password Reset is only used by affiliates of Boston University. You can read more about affiliates here.
Password Reset:
1. When you navigate to Self Service Password Reset you will be greeted with the screen below to which you enter your BU Login/E-mail. If you are not an affiliate, you will not be able to proceed.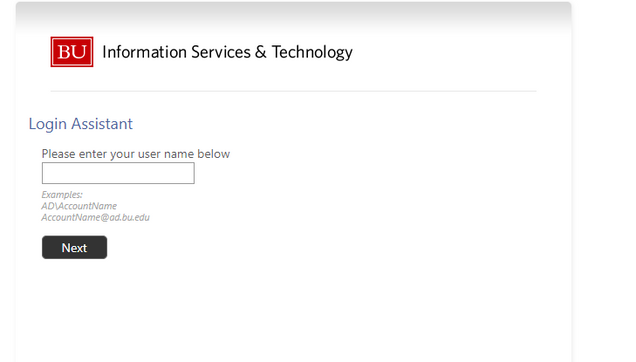 2. After entering your BU Login/E-mail, you will receive the screen below saying a security code was sent to the personal E-mail address registered with this account. The security code will be valid for 30 minutes. If the code is entered incorrectly once, then the security code is immediately invalid.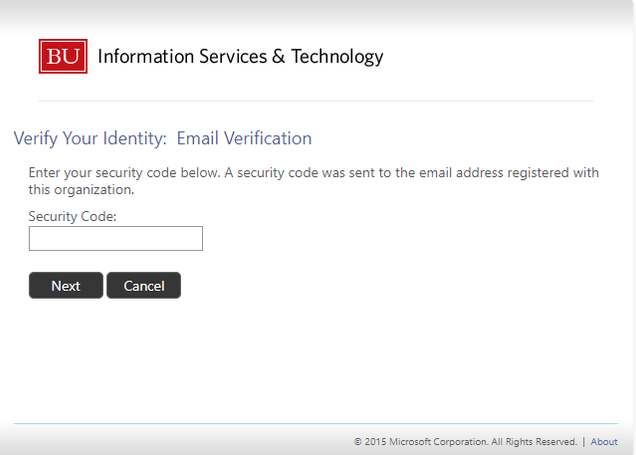 3. After that you are presented with two options, Account Unlock and Password Reset:
If you choose Account Unlock, it will remove the AD lockout that exists on your account.
If you choose Password Reset, you can change your password which has to have the following criteria:

Must be a minimum of ten characters
Cannot contain personal name/BU login name
Must contain three of the following

Uppercase characters
Lowercase characters
Numeric characters
Punctuation/Symbolic characters

Must not be one of the last six passwords that you used
4. Afterwards, you should receive a screen that you have successfully changed your password or unlocked your account!
If you are having issues unlocking/changing your password, the IT Help Center can assist with this process.
Password Registration (Changing Personal Email):
1.  Password Registration is the other component of Self Service Password Reset that allows you to change your personal E-mail where password reset E-mails are sent.
2. You will have to authenticate twice to confirm you have access.
3. Then you will be able to change your personal E-mail like the screen below:


4. After that you will have successfully changed your personal E-mail in which password resets are sent to! As above, if you have issues accessing your account, the IT Help Center can help with changing your personal E-mail as well.