These instructions are for Mail run on Mac OS X 10.6 (Snow Leopard) and higher. We also have instructions for configuring Mail on 10.5 (Leopard).
For information on setting up desktop clients for our other email services, please visit their respective configuration pages:
1. Start Mail.
If this is the first time you are using Mail, when Mail opens, click Continue.
Or, if Mail is already configured and you are just adding this account, go to File-Add Account.
2. Enter the requested information using your BU email address and Kerberos password for the Email Address and Password fields. Submit your email address in the form login@bu.edu.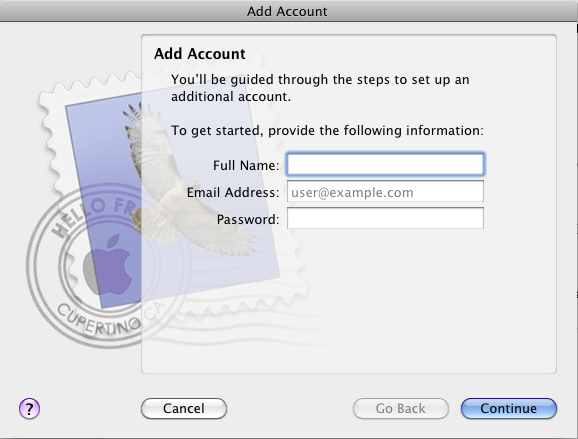 3. Click Continue.
4. Indicate that your Account Type is IMAP and the incoming mail server is acs-imap.bu.edu.
Instead of the default "IMAP Account" Description, you can use something like "BU mail" if you prefer.
5. Click Continue.
6. The outgoing mail server is smtp.bu.edu.
Our mail server supports SSL user authentication, so check Use Authentication to send mail easily from both on and off campus.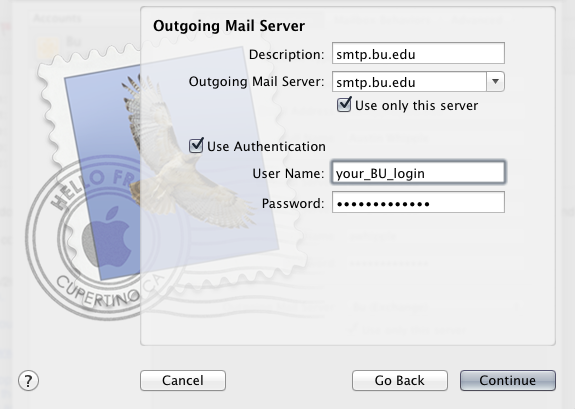 7. Check the Account Summary screen to make sure the settings are correct, leave Take account online checked and click Create.
8. Look through Mail->Preferences to make sure everything is configured in the way you want. In the Advanced window, indicate that you want to Use SSL (port 993) with Password authentication. You might also consider setting up online address lookup (LDAP) as explained below. After that, you're all set! Close your Preferences and you can start using Mail.
9. If you have any trouble sending mail the first time after you set your account preferences, quit and restart the Mail program and then try again.
About Deleted Messages

Deleting messages will mark the message for deletion, but not remove them.  To purge your deleted messages, click on Mailbox>Erase Deleted Items. You can manage your preferences for deleting under Mail>Preferences>Accounts>Mailbox Behaviors.
About the Mail directory
If, after configuring your mail program and connecting to the server, you do not see your known/existing mail folders, or you see a lot of extra files that you didn't expect to see, set the Root folder path (a.k.a. the IMAP Path Prefix) as Mail. This requirement is rare, but could be an issue for some ACS accounts created prior to February 19, 2008. To make that change, go to Mail->Preferences->Accounts->Advanced and put Mail/ as the IMAP Path Prefix so that any other folders you have on ACS will display correctly. After making that change, you may then be prompted to refresh your folder list, which you should do.
Optional: the BU LDAP server
1. Once that's all working properly, you may want to configure the BU LDAP server. This lets the Mail program look up BU email addresses in the BU online directory. Go to Mail-Preferences-Composing and click on the Configure LDAP button.
2. Click the + button and use a Name like BU LDAP SERVER. The Server is ldap.bu.edu. The Search base is o=Boston University, c=US (where "o" is the small letter o, not the numeral zero). Then click Save and Done.