Faculty and staff are eligible for email delivery of voice mail messages. For those who have subscribed to email delivery of voice mail messages, a copy of the message will be delivered to your email inbox and a separate copy will be stored in your voice mailbox.
Deleting the message from email will not delete it from your voice mailbox. You will still need to go into the system via the telephone interface, hear the beginning of the message and press 3 to delete, just as you normally would. Your voice mailbox has a limited capacity for storage (usually 30 messages). Once you have reached the limit, you will not be able to receive new messages via voice mail or email; therefore, it is important to use the telephone interface to delete messages periodically from your voice mailbox.
There is an option for you to receive messages only via email, i.e., no copy will be delivered to your voice mailbox. If you choose this option, you will not be able to access your messages via the telephone interface and you will not see a Message Waiting lamp when a new message is received. Also, if you are unable to access email, you will not be able to retrieve your voice mail messages. Please contact phone@bu.edu if you wish to set up this option.
To set up email delivery of your voice mail messages:
Step 1:
From your internet browser, enter: http://nowmsg.bu.edu/ if you are not on campus you will need to first connect to the BU VPN.
This will bring you to the BU Web Login screen. Enter your BU login name and Kerberos password and click on Log In.
This will bring you to the Boston University Voicemail subscriber portal page.
Step 2:
Enter your 7-digit mailbox account number. This is usually your BU telephone number entered with no dash (for example 3532097).  If you have a sub-mailbox enter using format 3532097xN (the final "N" being your sub-mailbox number.  For example, if you are sub-mailbox 3, enter 3532097×3).
Enter your numeric passcode. This is the same passcode you use from your telephone keypad when retrieving your messages.
This will bring you to the subscriber options page.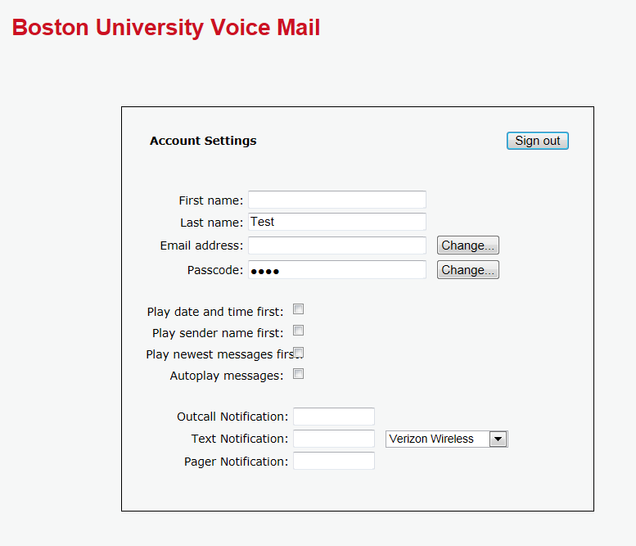 Step 3:
Name: You may enter your first and last name and it will display as part of the information presented in the email message of voice mails left by you to other subscribers. An entry in the Last name field is required.
Email address: To edit this field you must click on Change. This will open a new window.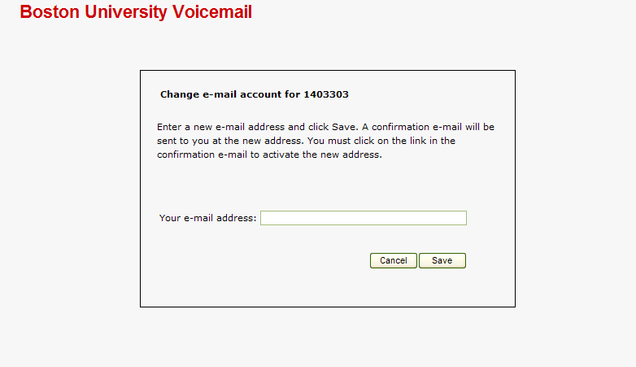 Enter the email address where your messages are to be delivered. Click Save and it will return you to the Account Settings screen, Pending verification will display under the email field. Your email delivery will not be activated until you receive the confirmation email and click on the link in the body of the confirmation which will return you to the Account options screen. At this point, you will now begin receiving your messages in your email inbox as well as on your telephone and you can click Sign Out or continue to edit account options.
You will be presented with other options on your Account settings screen based on your Class of Service. For a description of each option, hover the cursor over the text and an information box will display to the right on your screen.
Click Sign Out when you are done making changes to your account.