There are a few prerequisites that need to be addressed before you can download, install, and begin using HOD.
Your computer must be running one of the following operating systems:

Windows: 2000, XP, Vista, Windows 7
Mac: OS X 10.5 (Leopard) or newer

Your computer must use one of the following browser versions:

Windows:

IE 6.0 or later
Mozilla Firefox 2.0 through 31 (ESR)

Mac*:

Safari 6 or below
Mozilla Firefox 2.0 through 31 (ESR)

*Safari version 7 or later is not a supported browser at this time.

It is highly recommended that your browser be equipped to run Java applets. If you are unsure about this capability, check with your local computer support staff.
A Java-enabled browser requires a Java plug-in. Supported Java plug-ins are available from Sun, IBM, and HP. If you are unsure about the version your PC is running, check with your department's computer support staff.
Important Java Information
Installing Java
Once downloaded, open the EXE file and follow the installation instructions.
Allow Pop-ups from BU.EDU
Before you begin downloading the HOD application, it will be useful to set your browser to allow pop-ups from the BU website, where HOD is located.
If you do not allow pop-ups, the installation of HOD will not complete successfully.
You must disable all pop-up blocking, such as with the Google or Yahoo toolbars. The following screens show how to do this with Internet Explorer (IE). Your browser may be different.
Start Internet Explorer.
From the Tools menu, select Pop-up Blocker and Pop-up Blocker Settings.
Type www.bu.edu in the Address of the website to allow.
Click Add.
Click Close.
Pop-up Blocker Settings Dialog Box 1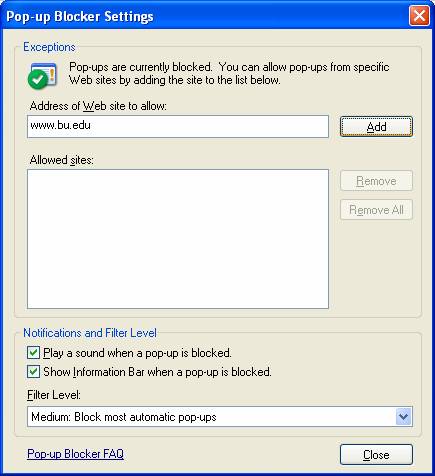 To always allow pop-ups from this site, type in www.bu.edu and click Add.
Pop-up Blocker Settings Dialog Box 2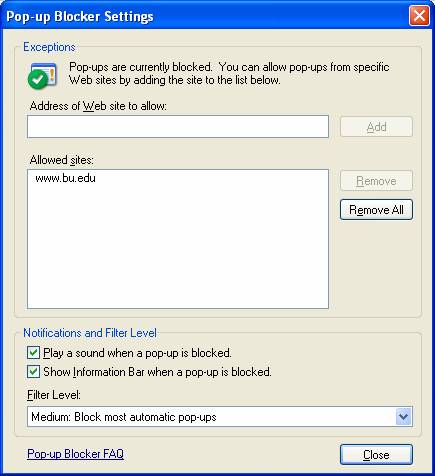 Click Close.