Using the Overview Template
All IS&T services and products on TechWeb will use an Overview as the main page to introduce the service/product.
Please follow these instructions to set up your page using the Overview template. This will provide you with the table structure for the Overview categories, along with some guidelines.
1) Open your overview page in the WordPress editor (or create a new page in WordPress if it does not already exist).
2) Select "Overview" from the Template menu. (Note: the template name may currently be labeled as "Service Overview" but the same template applies for both services and products.)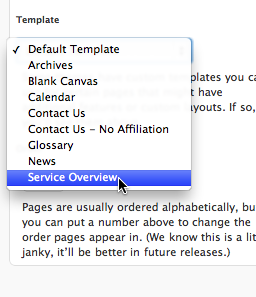 3) Click the checkboxes under "This Service Is Available To" to indicate the constituencies that can use this service. Note: "This Service Is Available To" does not restrict browsing access to this page — it simply denotes who can use the service/product.
4) Copy all the code located in the box below:
5) Return to your overview page in WordPress, change your editing view to HTML, and paste the code you just copied into the page editor.
6) Switch back over to Visual editing view, and edit the content to accurately and concisely describe your product or service.
7) Save/Publish your page. It's always a good idea to view your page after editing to ensure your edits were saved correctly and the page formatting is consistent with the rest of the site.
Internal Content
We will also track the following internal content. Please copy and paste this content into the Page Notes section in the WordPress editor for each page:
When pasted into the Page Notes section it should look similar to the screenshot shown below.

Guideline for Constituents
You do not need to fill out the "Available To" section on the overview table. The template will automatically populate this area with the constituents you selected in the "This Service Is Offered To" checkboxes. Please do not delete [constituents_list], which is the WordPress shortcode tag to insert the list of constituents.