Apple iOS Devices
The settings outlined on this page may vary slightly across devices and versions, but these instructions should be generally applicable to all users of the iOS.
Note: After you configure Exchange as described below, you might also want to get BU Mobile – BU's suite of applications for the iPhone, iPod touch and iPad.
Configuring the Mail client
If you're viewing this page from your mobile device, open this mobile configuration file to streamline the process.
You can connect your device to an Exchange server by following these steps.
Before you begin, you will need to know whether your account is in the AD or AD2 domain. If you are unsure, please consult with your local computer support staff or submit a Help request. If you need to guess, try AD first.
1.  Tap Settings.
2.  Tap Mail, Contacts, Calendars.


3.  Tap Add Account.


4.  Tap Microsoft Exchange.
5.  Fill in your

complete email address as login@bu.edu (where login is your BU login name)
the name of your Exchange server is xmail.bu.edu
AD or AD2 will be the domain
your email username (login) and
your email password (either Kerberos for AD, or the AD2 password)
What you type in the Description field is the name your Exchange account will have on your device, and will be displayed in a list if you have more than one email account configured. (Devices with iOS 4 or newer can have multiple Exchange accounts. However, devices with older operating systems can have only one.)
6.  Tap Next to continue.
Your device will attempt to connect to the Exchange server with the information you have entered. If it's successful, it will take a few minutes to synchronize your device and the Exchange server. When it's done, your most recent email, calendar items, and your Exchange Contacts will be viewable on your device.
7.  The next step is to adjust a few settings for your Exchange account.
Tap Settings, Mail, Contacts Calendars, then tap the account you just created to see the Exchange ActiveSync page. Make sure the switches for Mail, Contacts, and Calendars are all switched ON or OFF, depending on your preference.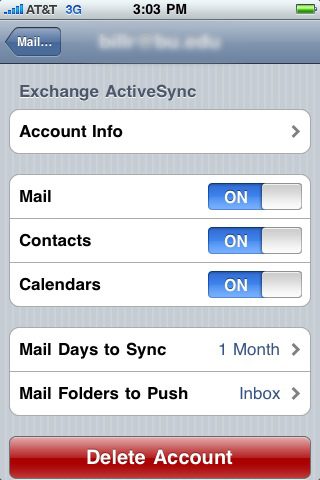 8.  Then click the Mail Days to Sync button. Tap one of the options, depending on your preferences. Choosing No Limit is not recommended and 1 Month is the maximum.