How does new Knowledge get into the Knowledge Base?
If you are Resolving a ticket for a case that you think is something unique, or for which you did not find an applicable knowledge article , please mark the ticket as "Knowledge" when you are writing up your Resolution notes. Each time you submit new information in this way, you'll be contributing to the growth and reliability of the KB.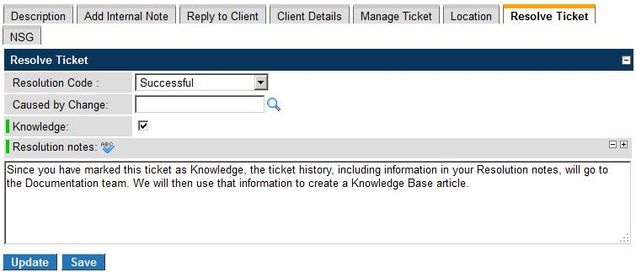 What if I want to submit Knowledge that isn't derived from a ticket?
An automated process that allows for knowledge submission is still on the wish list. Until that's in place, the best thing to do is submit your suggested article through the form or directly as a ticket/service request. Either way, the resulting ticket will then get mapped to the Documentation team so we can review/edit and submit your suggestion as an article. When applicable, we will also update related TechWeb information.
What if I want to suggest edits to an existing article?
At the bottom of the article, you can Flag the article, write up your comments or suggested new content, and Submit Feedback.

What if I want to edit articles myself?
If you would like to edit or create articles that pertain to your area of expertise, please submit that request as a ticket and review how to Edit the Knowledge Base.
How does information in the Knowledge Base differ from what's in SharePoint or TechWeb?
TechWeb contains public, client-facing information about IS&T services and related how-to information. SharePoint contains documentation that relates to internal/operational processes and procedures. The Knowledge Base contains information that assists Service Desk staff in providing client support. For example, troubleshooting tips and tricks, escalation information, pointers to where information is stored in TechWeb, and how-to information that isn't client-facing (e.g. how to set up certain types of Accounts).
Will our Knowledge Base ever be client facing?
Possibly. The ServiceNow KB does have functionality that would allow for "self-service" access to the type of how-to information that we currently have in TechWeb. So it's possible that, down the road, we could open up that functionality for certain types of articles that have been reviewed, written in a client-facing format, and marked as "Public." Although there are no immediate plans to do that,  we do write articles in a client-facing format whenever possible, so the public content will be ready to go.
Who can see the Knowledge Base articles currently?
For now, articles in the Knowledge Base are only available to ServiceNow users.
So all ServiceNow users can see all articles? Are there plans to segment who can see what?
For now at least, everyone using ServiceNow can see everything in the KB. We have been reviewing the articles with that transparency in mind, and will continue to do so. The need for multi-tenancy is an issue that is understood and is being evaluated.
Why are some of the articles unformatted?
Several hundred articles were imported from the previous IT Help Center Knowledge Base (a FileMaker database) and they lost all formatting on import. The content should still be helpful, although it could also be out-of-date because it is older and has not been reviewed yet. The Documentation team is cleaning things up as time allows. Meanwhile, please feel free to provide Feedback on unformatted articles that you come across and find issues with.