Please note that additional information to enhance the topics below is outlined by ServiceNow at http://wiki.service-now.com/index.php?title=Adding_Content_to_the_Knowledge_Base.
Becoming an Editor
If you would like to edit or create articles that pertain to your area of expertise, please submit that request as a ticket, so the Applications team can set you up with access. Once you have been set up as an Editor, you will notice a new Knowledge Base menu on the left side of ServiceNow.
Using the Knowledge Base
Before you can edit, make sure you know how to Search the Knowledge Base so you understand how staff will be interacting with it to search for knowledge. Also, as an Editor, you will need to be able to search the KB in order to make sure you are not creating articles with duplicated content.
Creating and Modifying Articles
Create a New Article from a Blank Template
Create a New Article from a Ticket Marked as Knowledge
Edit an Existing Article
Add Images to an Article
Create a New Article from a Blank Template
1. Once you have done a search and established that the article you want to create does not already exist, go to the Knowledge Base menu and click on Create New.
2. Complete the Client Service and Service Component information, if applicable, for the article you are creating.
3. Fill in any URLs that are applicable. For example, if you are creating an article that provides a pointer to a TechWeb page, fill in that TechWeb URL.
4. Provide a short description that uses key words. Try to use words or phrases that a client might use when asking questions about that topic.
5. Create the body of the article using the template provided. If this is article content that could (someday) be made available to clients, write the article in a way that could be client facing. For example, say, "See detailed instructions on TechWeb at ___" rather than, "Send the client to the TechWeb page at _____."
6. Scroll down to the Meta field and enter any key search terms that people might use when searching on that topic. This should include alternate spellings, such as "email" and "e-mail".
Note that you can use the toolbar to insert images, links and attachments as needed.


6. Once you're done, click on Submit.
Create a New Article from a Ticket Marked as Knowledge
Creating articles from marked Knowledge is primarily the responsibility of the Documentation team. However, if there is a case you were involved with that you would like to create Knowledge from, you can do that, but please follow these guidelines.
1. Make sure an article that contains the information doesn't already exist. (If it does, Edit the existing article instead.)
2. Go to Open Submissions in the Knowledge Base menu.
3. Click on the article you want to edit.
4. Modify the Short Description and the body of the article (both of which have been copied from the ticket) so that they read like an article and not a ticket resolution. Remove any information that is client-specific or identifying, and make the Short Description and article content general and broadly applicable. Also submit any likely search terms or alternate spellings to the Meta field.
5. Then, click on Create Article. (Once an article has been Created, it will be removed from the Submissions list.)
Edit an Existing Article
1. If you are viewing an article that needs editing, click Edit Article in the upper right corner. Alternatively, you can use the Edit menu item to select articles from the full list.
OR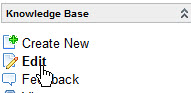 2. Make the changes you need to make. Note: If an article is so old or redundant (already presented in a comparable article) that its content is no longer useful you can, instead, Delete the entire article.
3. Click on Update to save your changes.
Adding images
You can add images to your KB articles.
Click on the Insert/Modify image button in the text editor

Change the Type drop-down selection to attachment.
Click Choose File to browse your computer for the image. If you see a drop-down menu of already uploading images, click on the New button.
Click Attach.
Click OK.