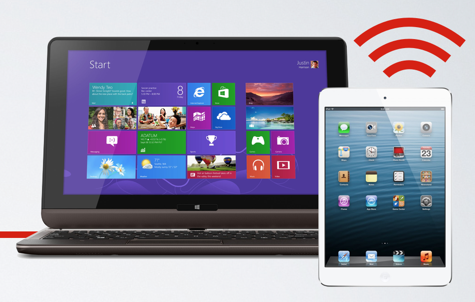 Get Connected
Help will be available from the IT Help Center during move-in and throughout the year.
Get Educational Pricing

Take advantage of educational pricing on Apple, Lenovo and other systems. The IT Help Center is authorized to service all of these brands. You can also install Microsoft Office at no cost.
Protect your Data and Devices

Antivirus and spyware detection software is provided.
Remember that you should never leave your laptop or device unattended in a public area or in an unlocked residence.
Back up your important files! Use Google Drive, subscribe to CrashPlan, save to an external/thumb drive or even just e-mail important documents to yourself. Make sure you do whatever is needed to ensure that you always have multiple copies of your work.
Collaborate, Navigate, Learn!
BU Google Mail and Apps – Get your BU Google Mail plus Google Drive and the other Google apps at www.bu.edu/google.
Make sure you are reading your BU email It's important to check the mail sent to login@bu.edu because this is the official way for the University to contact you. If you have an existing e-mail account that you prefer to use, you can forward your BU email using the Settings menu within BU Google Mail.
Blackboard – Many of your professors will use Blackboard as a learning management system. Learn more and log in when the time comes at learn.bu.edu.
Turnitin – Your professors will be checking for plagiarism, and you should too! Learn more about the Turnitin plagiarism detection service.
BU Mobile for iOS – The University's calendar, maps, directory, bus schedule and more are available through the BU Mobile app. Get it now at itunes.com/apps/bumobile.
Blogs – Want to write about it? Learn more about blogs and set one up at blogs.bu.edu.
Printing – Thanks to Blackboard and other online services, many documents won't need to be printed. If you do not have a printer in your room, or for times when you need large-scale printing, you can use MyPrint. NOTE: If you do opt to bring a printer to your room, it must be capable of connecting via wireless (802.1x) or will need to run on Ethernet cable. Learn more at www.bu.edu/tech/movein.
The Student Link – You might have already used the Student Link – or will soon! It provides access to all of your personal, academic, financial and other information relevant to Boston University. You can register for classes, pay your bills, buy Convenience Points, and maintain other information. Learn more and use the "The Link" at bu.edu/studentlink.
ShareLink – Your personal information is legally protected by FERPA. However, you can share elements of your academic or financial record with your parents, legal guardian, or others. Learn more…
Find Help and Follow Us!

TechWeb site – Find instructions and more at bu.edu/tech/.
IS&T's IT Help Center – Ask questions, get help, get repairs.

@buithelp and

www.facebook.com/buithelp