What Can I Recycle?
Please refer to the posters below when sorting your recyclables. For questions about recycling, email sustainability@bu.edu.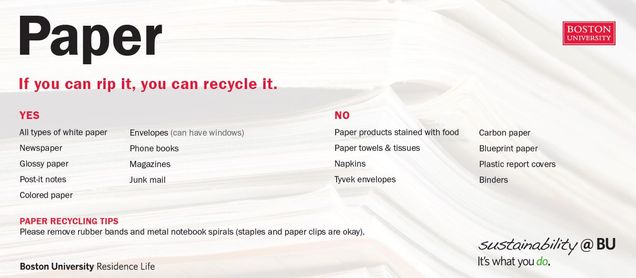 Single-Stream or Dual-Stream Recycling
The Boston University Medical Campus uses a single-stream recycling system. Instead of separating cans, bottles, paper, and cardboard, all recyclable items are mixed together in one bin creating a single recycling "stream".
The Charles River Campus employs a dual-stream recycling system. We ask that our community members separate paper from other plastics, metal, and glass into the "Paper" and "Cans & Bottles" bins.
The same recycling guidelines apply to single-stream and dual-stream recycling, so please don't add food waste, soiled containers or trash.
PLA Plastic/Compostable Products
This PLA plastic cup will compost and degrade completely when disposed of in proper composting facilities
PLA Plastic and compostable products are not recyclable. These products bear a striking resemblance to plastic but they are not plastic at all. They are made from renewable resources such as corn, potatoes and sugar and are designed to compost with organic food wastes. BU Dining Services has replaced 98% of disposable, plastic containers with compostable ones. So don't be afraid to throw that PLA "plastic" cup into the compost bin – it belongs there! You can bring your used PLA products to your nearest dining hall or the GSU for composting.
Universal Waste & Miscellaneous Items
Boston University collects and recycles small electronics such as cellphones, water filters, light bulbs, and mercury-containing devices such as thermostats and thermometers. These items can be recycled at the office of your nearest area manager on the Charles River Campus, or on the Medical Campus through Environmental Health & Safety. Please be careful when handling these items because some may contain hazardous materials. If you are unsure if your item is recyclable, email us at sustainability@bu.edu.
Cell Phones
Retired cell phones can be delivered to IS&T Communication Services at 111 Cummington Mall or Recycling at 120 Ashford Street, Room 218. On the Medical Campus, contact Environmental Health & Safety to get a pre-paid cell phone recycling bag.