2019 Speaker Bios and Topics
Keynote Speakers
Edmond Awad
In 2016, Edmond led the design and the development of
Moral Machine
,  a website that gather human decisions on moral dilemmas faced by driverless cars. The website has been visited by over 4 million users, who contributed their judgements on 50 million dilemmas. Another website that Edmond co-created, called
MyGoodness
, collected judgements over 1 million charity dilemmas. Edmond's work appeared in major academic journals, including Nature and ACM Transactions, and it has been covered in major media outlets including The Associated Press, the New York Times, Washington Post, LA Times, The Times, Der Spiegel, Le Monde and El Pais. Edmond's research interests are in the areas of AI, Ethics, Computational Social Science and Multi-agent Systems.
Edmond has a bachelor degree (2007) in Informatics Engineering from Tishreen University (Syria), a master's degree (2011) in Computing and Information Science and a PhD (2015) in Argumentation and Multi-agent systems from Masdar Institute (now Khalifa University; UAE), and a master's degree (2017) in Media Arts and Sciences from MIT. 
This September, he will be joining University of Exeter Business School as a Lecturer.
Topic:
The Moral Machine Experiment
The Moral Machine is an internet-based game exploring the many-dimensional ethical dilemmas faced by autonomous vehicles. The game enabled the group to gather 40 million decisions from 3 million people in 200 countries/territories. I report the various preferences estimated from this data, and document interpersonal differences in the strength of these preferences. I also report cross-cultural ethical variation and uncover major clusters of countries exhibiting substantial differences along key moral preferences. These differences correlate with modern institutions, but also with deep cultural traits. I discuss how these three layers of preferences can help progress toward global, harmonious, and socially acceptable principles for machine ethics.
____________________________________
Chiara Longoni
Assistant Professor of Marketing
Chiara researches consumer decision making with the aim of understanding and improving consumer welfare. Her research focuses on the substantive areas of health and medical decision making, and pro-environmental consumption. The goal of her research is to provide consumers, marketers, and policy makers with the understanding and the means to make better decisions.
Chiara holds a M.A. in social psychology from New York University, and completed a Ph.D. in marketing at New York University's Stern School of Business.
Topic:

Resistance

To

Medical

Artificial

Intelligence
Artificial Intelligence (AI) is revolutionizing healthcare, with great benefits for social welfare due to its efficacy, cost-efficiency, and scalability.IBM's Watson diagnoses heart disease, chatbots dispense medical advice, and smartphone apps detect skin cancer as accurately as specializedphysicians. Yet, little is known about people receptivity toward medical AI. We find that people exhibit a generalized resistance toward medical AI, ascaptured by likelihood of healthcare utilization, reservation prices, performance sensitivity, and utility. Resistance to AI manifests because ofuniqueness neglect—the belief that AI providers cannot account for one' unique characteristics and circumstances as well as human providers.
Paper available at https://papers.ssrn.com/sol3/papers.cfm?abstract_id=3375716
____________________________________
Varun Gauri
Co-Head of the Mind, Behavior, and 

Development

 Unit (eMBeD)  
Senior Economist, Development Economics Vice Presidency
Varun's eMBeD unit  integrates behavioral science into the design of anti-poverty policies worldwide. He was Co-Director of the World Development Report 2015: Mind, Society, and Behavior.
Varun serves on the editorial boards of the journals Behavioral Public Policy and Health and Human Rights. Varun has been a member of the World Economic Forum Council on Behavior, and currently serves on the Board of the Behavioral Economics Action Research Centre at the University of Toronto and the Advisory Board of Academics Stand Against Poverty.
His research has appeared in journals spanning the fields of economics, philosophy, political science, and law, and has been covered in The New York Times, The Economist, The Washington Post, Forbes, The Hindu, The Guardian, and Frontline, among many media outlets.
He has published three books: Courting Social Justice, School Choice in Chile, and Bringing Law to Life. His current research is investigating the influence of social norms on women's economic decision making, compliance with judicial human rights orders, and the influence of cooperation and identity on ideas of distributive justice.
He has BA from the University of Chicago and a PhD from Princeton University, and has held positions as Visiting Lecturer in Public and International Affairs at Princeton University, Withrow Chair at Deep Springs College, and Visiting Professor in the Department of Economics at ILADES in Santiago, Chile.
Topic: Opportunities and Challenges of Technology in Behavioral Science-Informed Anti-Poverty Policy around the Globe
____________________________________

Magdi Amin
Investment Partner, Omidyar Network
Magdi is an Investment Partner with Omidyar Network in Washington, DC, where he focuses on global strategy and for-profit investments in Digital Identity.

 

Omidyar Network's vision is for a world in which everyone has access to Good Identity that empowers and protects individuals' rights to privacy, security, and control in the digital world.

Before joining Omidyar Network, Magdi served for nearly two decades with the World Bank Group (WBG). Most recently, he managed corporate strategy at the International Finance Corporation (IFC), the private sector arm of the WBG. In this role, he supported senior management on policies aimed at putting the private sector at the center of development solutions, including IFC's new long-term strategy, disruptive technology strategy, engagement with multilateral development banks, and helped to establish IFC's Economic Advisory Board. Previous roles at IFC included Head of Country Engagement, Principal Economist for the EVP and CEO, Manager of Investment Climate Advisory in the Middle East/North Africa (MENA) region, and Principal Economist and Strategist for the East Asia/Pacific region. Before his tenure at IFC, Magdi led World Bank private sector development programs in Southeast Asia, Africa, and MENA, and worked in turnaround management consulting.

Magdi received an A.B. from Princeton's Woodrow Wilson School and an M.A. from the Johns Hopkins School of Advanced International Studies (SAIS).

LinkedIn: https://www.linkedin.com/in/magdimamin/
Topic: Impact Investing 
____________________________________
Expert Panelists 

James Ciriello
VP Digital Innovation and Transformation, Mallinckrodt Pharmaceuticals
Jim is accountable for digital strategy and the realization of digital solutions to improve engagement, insight, and outcomes for the patients, payers, providers, scientists, and innovators Mallinckrodt Pharmaceuticals serves.

He was previously Vice President, Digital Acceleration and CIO of Emerging Businesses for Merck & Co. with accountability for shaping digital strategies, building new relationships and capabilities (at scale), and executing organizational transformation. He is recognized for creating novel partnerships, nurturing people (and ideas) for digital leadership, and a passion for accelerating innovation in health and life sciences.

Prior to joining Merck, Jim was Executive Director of the Boston University Institute for Leading in a Dynamic Economy (BUILDE), a research collaborative created to explore the effects of emerging technologies on competitive markets and organizations. Jim also held senior positions in strategy, demand creation, enterprise architecture, and software development at AT&T and Lucent Technologies.

He is co-author of managerial points of view, including "Smart Health Community: The Hidden Value of Health Information Exchange", and "The Story of Island Man: It's Not Just the Technology".

Jim holds a master's degree in Information Management from Stevens Institute of Technology and a bachelor's degree in Computer Science from Saint Peter's University.
Topic: Connecting Patients with Science
Jim will share his perspective on how to grow our body of knowledge in context of privacy and data fragmentation and how to generate new hypotheses and predictions based on limited understanding of human physiology.
____________________________________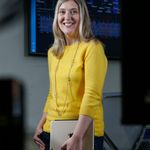 Ashley Nagle Eknaian
Chief Digital Strategist /Head of Eastern Labs, Eastern Bank
Ashley is a senior vice president at Eastern Bank. In her role as chief digital strategist and head of Eastern Labs she is responsible for driving innovation and connecting Eastern Bank to the broader FinTech ecosystem through experimentation, partnership, and investment. 
Ashley also serves as Program Development Chair for Brandeis University's "Master's in Digital Innovation for FinTech"– the first program of its kind in the country.
Ashley holds a bachelor's degree in Business Administration from Boston University and an MBA from Northeastern University.
Topic: Financial Services and Wellbeing in the Age of AI
Moving to all digital banking services, leaving the baby boomers at risk.

Financial wellness, financial complexity and the advent of robo-advice.

The use of AI tools and the challenge of programmer bias.

Peer to peer payments, crypto,… 
____________________________________
Steven Moy
EVP Chief Technology Officer, R/GA US
Steven is a hands-on agency CEO, Chief Digital Officer, CTO and Managing Director who excels at boosting positive P&L results.

 

He has a strong track record in creating high performance teams with profitable new digital transformation offerings, strategic acquisition of capabilities (M&A) and high growth client relationships.

 

For decades, Steven has worked on numerous clients' transformation initiatives including McDonald's, Mass Mutual, Marvel, Shiseido, Girl Scouts USA, Johnson & Johnson, CVS Health and many others.

 

Steven is leading the technology consulting practice and global technology partnerships at R/GA US.  Before R/GA, he served as Isobar UK's CEO and previously as the US Chief Commerce Officer where he shaped the company's strategic direction and go-to-market strategies.  Prior to Isobar, Steven was SapientNitro's Regional Managing Director and responsible for New England P&L and growth.

As a frequent commentator in publications on topics such as Digital Transformation, Steven is an accomplished speaker at international conferences (i.e., WebSummit) and client events (i.e., Shiseido, Johnson and Johnson), where he advises leaders on strategies in their digital journey.

Steven holds an MBA from Boston University, a MS of Computer Science from UMass Boston and a BS of Electrical Engineering from Northeastern University. 

Topic: Data and Rise of Marketing Technology Innovation

As technology innovation continues to accelerate, the relationships between brands and customers are completely redefined. Traditionally, brands only needed to communicate before commerce would follow.   Now, customers are trained by technology disruptors such as Amazon, Apple, Tencent and others that 2-hour delivery is the new normal.  In order to prevent disruption or disrupt your category and take on more market share, companies are investing millions into marketing, CRM and data technologies to capture 360 view of their customers.

An IBM recent survey indicated 90% of today's customer data is generated in the last 2 years.  Beauty disruptor Glossier harnesses data to provide superior customer experiences which made Glossier as most innovative company by Fast company and Inc's Company of the year in 2017.  On the other hand, Facebook lost >$123B in July 2018 due to their data management issues.

*   How can companies create superior customer relationship strategy while balancing data management ethics?
*   What are best practices to use customer data without compromising privacy and data law and disrupt your respective markets?
*   What are key capabilities to deliver superior customer relationship management?
*   What are the critical success factors in data management?
___________________________________
Sarah Mueller



Managing Director, Kununu
Sarah is convinced that digitization is changing the expectations employees
have of

their employers and that companies have to adapt to this new world of work.
Sarah holds a Diploma in Business Administration with a focus on Media Management, Marketing & Market Research and Statistics from the University of Cologne and completed a Ph.D. at the Institute of Marketing & Media at the University of Hamburg. Born in Cologne, she now lives in beautiful Vienna and is a member of the kununu management team. Before that she was Head of Marketing & Content at kununu. With more than 3 million reviews of over 880,000 companies kununu.com is the leading employer-rating platform in Europe. Its U.S. headquarters are based in Boston, MA.
Topics:
Sarah is an expert in Employer Branding and offers exclusive workplace insights:
New Work,

Transparency,

Cultural Fit,

Employer Branding,

Digitalization in the workplace
___________________________________
David Weil
Dean and Professor, Brandeis University
(former 
Wage and Hour Administrator, US Department of Labor)
David

became the Dean and Professor of the Heller School for Social Policy and Management at Brandeis University in August 2017.  Prior to that, he was the Peter and Deborah Wexler Professor of Management at Boston University's Questrom School of Business.

David was appointed by President Barack Obama to be the Administrator of the Wage and Hour Division of the U.S. Department of Labor and was the first Senate confirmed head of that agency in a decade.  He led the Wage and Hour Division from 2014 to January 2017.

David is an internationally recognized expert in employment and labor market policy; regulation; transparency policy and digital empowerment; and the impacts of supply-chain and industry restructuring on employment and work outcomes and business performance. 

David has written five books, most recently The Fissured Workplace (Harvard University Press) and published over 100 articles. He received his BS at Cornell University and Master and Ph.D. degrees in Public Policy at Harvard University.

Topics:

Employment and labor market policy such as status of workers operating on platform-type business models (see e.g., here: https://www.nytimes.com/2019/04/29/business/economy/gig-economy-workers-contractors.html)