Graduate Assistantships in Student Affairs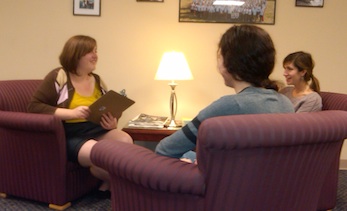 "At SED's Higher Education Program, we learn both theory and practice. I don't think anything could exemplify that better than my Graduate Assistantship in Student Affairs. Every day, I find new ways to apply what I'm learning in the classroom to what I'm working on at the office. Research, history, and law all have lessons that I use on a daily basis. Beyond that, I've learned the inner workings of the Residence Life and had numerous staff members 'take me under their wing.' It seems like every day, someone has more advice for the Graduate Assistant!" – Colleen DiBeasi, G.A. for Residential Education
---
SED Graduate Assistantships in Student Affairs
Boston University's School of Education and Dean of Students Office have made a commitment to increase the number of the University's Higher Education Administration graduate students in graduate assistantships within our University. These assistantships will expose graduate students to the many orientation, mentoring, and counseling programs in the Student Affairs operation, which exists to enhance the quality, character, and perspective of undergraduate students at Boston University.
Graduate Assistants work approximately 20 hours/week in a supervised field placement throughout the academic year. Additionally, they enroll in a weekly field placement seminar (SED AP 801) with a cohort of fellow graduate students with whom they will reflect and learn. The Graduate Assistantship counts as a 4-credit elective toward their master's program.
A few of our offices have positions available, and we hope to increase that number in the coming years.
Why choose BU's program?
– Advanced concentration (Full-time students can complete in 1 year; FT students with no professional practice experience concurrently complete a one-year internship and AP801 internship course)
– Partial & Full Scholarships available
– Theory-to-Practice Curriculum (rich learning environment; many of our students already practice in a wide range of entry & mid-management level in higher education at a number of Boston area universities)
– Broad-based curriculum & electives
– Highly experienced higher ed./student affairs faculty and adjuncts
– Abundant opportunities for professional & social capital
Possible Assistantship Placements
When we have graduate assistantships available within the division, we list them on the Graduate Assistantships area on the School of Education's website.
Deadline
Application details are available via the School of Education. Please contact Joel Scott with any questions or concerns.
More Information
A PDF about our program's distinctives is available for download.
Application Information and Deadlines
Questions
Contact:
Joel H. Scott, Ph.D.
Clinical Assistant Professor
Program Director-Higher Ed Administration
jhscott@bu.edu
Twitter: @joelhscott
Program Hash: #SEDHigherEd