Graduate Assistantships in Student Affairs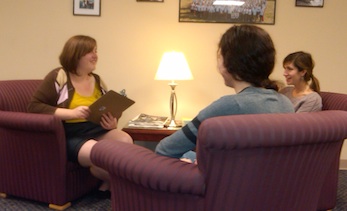 "At SED's Higher Education Program, we learn both theory and practice. I don't think anything could exemplify that better than my Graduate Assistantship in Student Affairs. Every day, I find new ways to apply what I'm learning in the classroom to what I'm working on at the office. Research, history, and law all have lessons that I use on a daily basis. Beyond that, I've learned the inner workings of the Residence Life and had numerous staff members 'take me under their wing.' It seems like every day, someone has more advice for the Graduate Assistant!" – Colleen DiBeasi, G.A. for Residential Education
---
Graduate Intern, University Service Center
8 – 10 hours/week
Beginning January 2016
$12/hr.
Duties: Assist USC staff in developing programs, workshops, and presentations for various populations, including first-generation college students. Devise programs, create effective pre-event publicity, coordinate event logistics, administer post-event surveys and use feedback to influence new programming efforts. Create monthly newsletter for USC first generation program, update and engage students through social media and assist in growing participation in program through direct student contact. Candidate must be able to work independently, be comfortable breaking an assigned project down into component parts, establishing timelines, and following tasks through to completion, seeking guidance and assistance as appropriate throughout the process. Must have excellent written and oral communication skills and demonstrate sound judgment. Experience with Microsoft Excel and PowerPoint is highly desirable; survey experience helpful. Prior work experience, in progressively more responsible positions, is required.
Interested students can visit our site for further information on what application materials are required, as well as other helpful details concerning the position search timeline.
Applications will be accepted through November 13, 2015.
---
Graduate Assistantships in Student Activities
The Student Activities Office offers a paid graduate assistantship in Marketing. This position oversees the office's MKTG team, and is responsible for creating advertisements, managing students, and managing social media.
Requirements include experience in Adobe Creative Suite, excellent writing skills and ability to work over breaks.
For more information, please check out the position listing.
---
Graduate Internship in Residential Education
Residential Educational operates under the auspices of BU Residence Life, and exists to provide on-campus residents with resources and assistance as they explore their individual development outside the classroom, which spans a wide range of areas including academic, cultural, interpersonal, emotional and moral. BU Residence Life employs nearly 350 student and professional staff members in an effort to provide excellent staffing for our 11,500 bed residential housing program. Specific initiatives within Residential Education include, but are not limited to, the coordination of selection, training and evaluation of all full-time and paraprofessional staff; the support of the Residence hall Associations; and the advising of the Faculty-in-Residence program. Residential education is located on the the 2nd floor of 19 Deerfield Street in the heart of historic Kenmore Square.
Eligibility Requirements:
Enrollment in the Higher Education Administration program at the BU School of Education
20 hours per week of supervised fieldwork for 2 semesters
Enrollment in a weekly field placement seminar (SED AP 801)
Commitment to exploring the administration of Residential Education and BU as a whole
Responsibilities:
Assist the Associate Director for Student and Staff Development in the development and implementation of student and staff training & development programs that attempt to maximize learning that occurs outside the classroom, especially the Faculty‐in‐Residence Program and the Specialty Communities program.
Assist the Associate Director in the development and implementation of student and staff training program that include but are not limited to the following:

Resident assistant and senior resident assistant selection/training,
Residence Hall Association,
Assessment, Evaluation, and Research.

Assist in the oversight and management of the residential education center at 19 Deerfield Street.
Work collaboratively with Residence Life staff and other campus offices and departments, including but not limited to other offices within the Dean of Students Office.
Attend campus‐wide seasonal training programs for resident assistants
Assist in the day‐to‐day administrative work required to assure that information on student staff is accurate and up to date
Maintain assessment records evaluating programming, training, and event initiatives. Prepare semi‐annual reports.
Maintain ethical and professional confidentiality as well as sensitive regard for cultural and lifestyle differences.
Assist with the planning and staffing of special events as requested by supervisor.
Other duties as assigned.
Time Commitment: 20 hours per week of supervised fieldwork for 2 semesters (fall 2015, spring 2016)
Compensation: No stipend. However, Graduate interns might be interested in applying for a separate Resident Assistantship position that could potentially provide additional financial support.
Contact Information: Residential Education, 19 Deerfield St., resed@bu.edu or 617-353-3540
---
SED Graduate Assistantships in Student Affairs
Boston University's School of Education and Dean of Students Office have made a commitment to increase the number of the University's Higher Education Administration graduate students in graduate assistantships within our University. These assistantships will expose graduate students to the many orientation, mentoring, and counseling programs in the Student Affairs operation, which exists to enhance the quality, character, and perspective of undergraduate students at Boston University.
Graduate Assistants work approximately 20 hours/week in a supervised field placement throughout the academic year. Additionally, they enroll in a weekly field placement seminar (SED AP 801) with a cohort of fellow graduate students with whom they will reflect and learn. The Graduate Assistantship counts as a 4-credit elective toward their master's program.
A few of our offices have positions available, and we hope to increase that number in the coming years.
Why choose BU's program?
– Advanced concentration (Full-time students can complete in 1 year; FT students with no professional practice experience concurrently complete a one-year internship and AP801 internship course)
– Partial & Full Scholarships available
– Theory-to-Practice Curriculum (rich learning environment; many of our students already practice in a wide range of entry & mid-management level in higher education at a number of Boston area universities)
– Broad-based curriculum & electives
– Highly experienced higher ed./student affairs faculty and adjuncts
– Abundant opportunities for professional & social capital
Possible Assistantship Placements
Many assistantships are available all over campus. We list them here and on the Graduate Assistantships area on the School of Education's website.
Deadline
Application details are available via the School of Education. Please contact Joel Scott with any questions or concerns.
More Information
A PDF about our program's distinctives is available for download.
Application Information and Deadlines
Questions
Contact:
Joel H. Scott, Ph.D.
Clinical Assistant Professor
Program Director-Higher Ed Administration
jhscott@bu.edu
Twitter: @joelhscott
Program Hash: #SEDHigherEd