All student organizations have unique interests, passions, events and goals. The Square is designed to provide better support for the uniqueness of our diverse student organization community. Born of a need to offer greater support, focused training, and streamlined expectations, The Square began in June 2016 and is made up of five roads. We looked at a variety of things when determining which road best fit your organization. The decisions were based upon the history of the student organization, the events they have hosted, the spaces they have used, and the funding they requested.  Our goal was not to eliminate any privileges or access to any spaces that a student group relies upon. Our ultimate goal is to provide everyone with the appropriate level of support, education, and guidance that fits the needs of your organization. We also aimed to take away some of the old restrictions that all student organizations were required to adhere to and now have specific requirements for each road.
Looking to start a group. Find out more here.
---
Looking to change roads?
Complete this form on behalf of your student group to request to switch roads. Responses will be accepted until Monday, March 30th 2020 at 11:59 pm.
March 1: Road change request form opens
March 30: Road change request form closes at 11:59 pm
March 30-April 2nd: Submission review
Groups notified of decisions via email
View the different benefits and requirements of each road here:
NOTE: Groups are unable to switch to Brookline because this road is reserved for Residence Hall Councils and Student Governments
If you're interested in creating a new student group, the application process will take place at the beginning of Fall semester. 
---
Make-ups and new student group trainings are now posted! 
Currently recognized groups: You should have received an email saying which trainings you still need to attend or a congratulatory email saying you're all set. To double check what trainings your group has completed, please visit our training tracker.
New Groups: You will be contacted shortly about which trainings you will have to attend, but you will all need to complete Engage & Event Management 101 so please plan accordingly.
Engage and Event Management 101 is required for all student groups.
Treasurer Training is required for Commonwealth, Beacon, and Brookline groups.
Finding Common Ground is required for all Commonwealth, Beacon, Brookline, and Bay State groups.
Participation: Each group must send one member (preferably officer).
Step Up Step In BU (SUSIBU) is required for all Commonwealth, Beacon, Brookline, and Bay State groups.
If your group has not attended, you will find

 

your group's assigned time and access code in an email sent to your officers.
Hazing Prevention Online Webinar is required for all Commonwealth, Beacon, Brookline, and Bay State groups.
Only one officer from your group needs to complete this requirement.
We have also included our hazing policies and our specific reporting methods. Be sure to keep these policies in a safe place to refer to in the future.
BU Hazing Policy & MA State Law
BU Online Hazing Reporting Form
HazingPrevention.org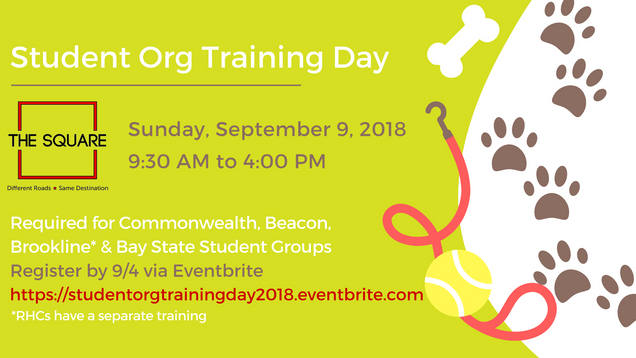 Road Change Requests
Still have questions about The Square? Take a moment to learn more from our Associate Directors.