Every student group has their unique interests, passions, events, and goals.  The Square allows each group to receive the best support and resources for success.  Born of a need to offer greater support, focused training, and streamlined expectations, The Square is made up of five roads.  Each road includes unique benefits, support, and expectations based upon the style of programming and events offered by student groups.  The five roads are Deerfield, Bay State, Brookline, Beacon, and Commonwealth.  The Square launched in June 2016.
Looking to start a group. Find out more here.
---
Make-ups and new student group trainings are now posted! 
Currently recognized groups: You should have received an email saying which trainings you still need to attend or a congratulatory email saying you're all set. To double check what trainings your group has completed, please follow this link to our training tracker: https://goo.gl/CPfhiZ
New Groups: You will be contacted shortly about which trainings you will have to attend, but you will all need to complete OrgSync & Event Management 101 so please plan accordingly.
OrgSync and Event Management 101 is required for all student groups.
Treasurer Training is required for Commonwealth, Beacon, and Brookline groups.
Finding Common Ground is required for all Commonwealth, Beacon, Brookline, and Bay State groups.
Participation: Each group must send one member (preferably officer).
Register here: https://www.eventbrite.com/e/finding-common-ground-for-the-square-fall-2018-tickets-50744359746
Step Up Step In BU (SUSIBU) is required for all Commonwealth, Beacon, Brookline, and Bay State groups.
Hazing Prevention Online Webinar is required for all Commonwealth, Beacon, Brookline, and Bay State groups.
Only one officer from your group needs to complete this requirement. To register for this course, please go to https://prevent.zone/register/redeem?course=101, click "Create New Account" fill in the fields and use the access code that was sent to your officers in an email.
Please complete the course in its entirety, be sure to save the certificate of completion. ONCE COMPLETED YOU MUST NOTIFY US OF YOUR COMPLETION AND WHAT GROUP OR GROUPS YOU WOULD LIKE TO BE CREDITED FOR. This must be completed by Friday, October 19th at 11:59 pm.
We have also included our hazing policies and our specific reporting methods. Be sure to keep these policies in a safe place to refer to in the future.
BU Hazing Policy & MA State Law
BU Online Hazing Reporting Form
HazingPrevention.org
---
Introducing the 1st Annual Student Org Day!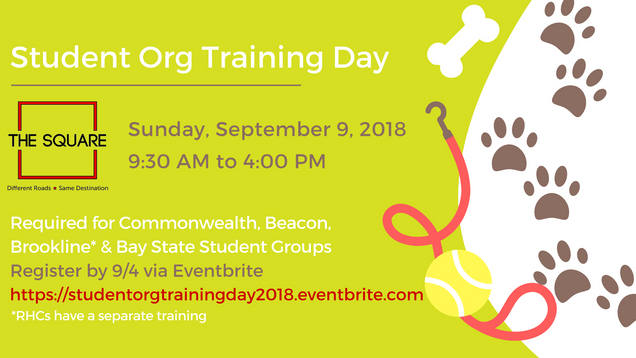 Road Change Requests
Still have questions about The Square? Take a moment to learn more from our Associate Directors.