Digital Projects Department Policies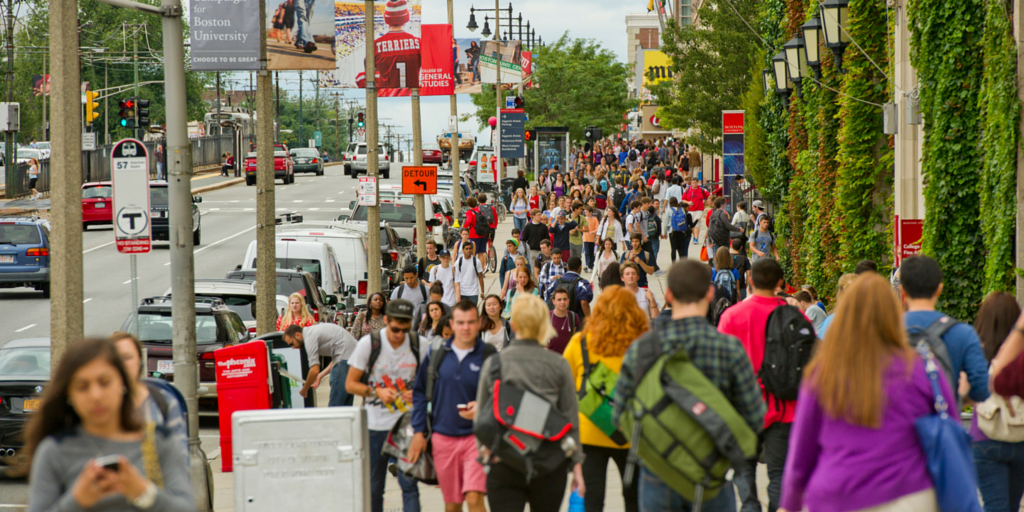 Photo by Cydney Scott
The Digital Projects Department in Boston University's School of Theology Library will support the mission of the School and University by expanding access to resources held by the Boston University School of Theology library. The department supports the use of these resources within the institution, the community, and globally, and seeks to fulfill this mission through an understanding of the needs of users, the use of emerging technologies, outreach, and partnerships within the institution and with other bodies.
Selection Policy
A "digital project" is an undertaking to create, organize, and make accessible a "digital collection" within the bounds of copyright and other restrictions. Materials for approved, library-sponsored Digital Projects will be selected from the collections held by the Theology Library. These selections are based on a number of factors including potential value to research and education, uniqueness, articulated faculty and institutional support, and potential for added value. In addition, materials with a high level of faculty or institutional interest, which are used frequently and have a strong relationship with the library and School's identity will be given first priority among projects.
Proposed projects should not require duplicating existing digital collections (which may include digital collections created and maintained by other reputable institutions, such as the Internet Archive https://archive.org/); should be free from donor restrictions; satisfy copyright regulations (whether through permission of the copyright holder or through the freedom granted by their existence in the public domain); and have a satisfactory level of institutional commitment at the time of production and in the future. Proposed projects should demonstrate significance in the following ways: projects should support current research or instruction in specific subject areas, enhance the value of existing collections by facilitating access and use, and/or demonstrate cultural or historical value within the institution or community.
Proposed projects that focus on materials not held by the Theology Library will be considered, but may be declined by the Digital Projects Librarian or Head Librarian. The Digital Projects Librarian may choose to offer advice and suggestions on these types of projects. If a project primarily comprised of materials not held by the Theology Library is approved by the Digital Projects Librarian or Head Librarian, a written agreement will be made regarding: assigning responsibility for maintaining the project, identifying the source of funding for any server-related or other ongoing costs, and whether the Digital Projects librarian (or any other library staff member) is expected to do long term work on this project.
Faculty Involvement
The Theology Library Digital Projects Department welcomes project proposals from faculty and staff of the School of Theology. Projects spurred by extensions of research, classroom-based projects, and collaborative work with other bodies are welcome. Faculty members who propose projects must provide documented justification showing that their projects meet the selection criteria described above.
Scope of Work on Library-Sponsored Digital Projects
Approved Digital Projects may involve the following tasks:
• Preserving, conserving, or other physical modifications made to materials to facilitate scanning or digitization for the project.
• Scanning materials for the project using the flatbed or book scanner.
• Creating and managing metadata about the materials for the project.
• Investigating copyright status for project materials and obtaining necessary permissions.
• Processing files in appropriate software programs, such as Adobe Photoshop.
• Assessing the quality of images and metadata content.
• Storing copies of digitized materials on the archive.bu.edu server (which is paid for and maintained by BU IS&T), and also, as possible, in the institutional repository OpenBU.
• Hosting digitized materials on the sth-archon.bu.edu server paid for by the Theology Library and partially maintained by the Digital Projects Librarian.
• Including projects in digital collections websites, which may include custom websites built by the Digital Projects Librarian, WordPress websites as implemented by BU IS&T, databases such as Archon or ArchivesSpace, and the institutional repository OpenBU.
• Performing long term maintenance to preserve access to and quality of digital materials.
For projects that have not been accepted or approved as library-sponsored projects, the Digital Projects Department may agree to advise or make suggestions on the following topics:
• Website design
• Graphic design
• Hosting digital files, such as images or PDFs
• Streaming audio or video content
• Transcription of audio or video
• Quality control assessments
Tasks that are out of scope for the Digital Projects department include, but are not limited to: written analysis of an academic nature on the content of a digital collection; building search engines; building full-text searchable databases; systems or network administration.
Outreach and Collaboration
The Theology Library Digital Projects Department will facilitate collaboration with faculty and staff in the School of Theology, other faculty and staff at BU, and with libraries and cultural institutions related through geography or area of focus. The Digital Projects Librarian will make use of the Theology Library's ties to several collaborative bodies and other organizations, which include the Boston Theological Institute (BTI) (http://www.bostontheological.org/home) and the other theological schools affiliated with the United Methodist Church, chiefly through the American Methodism Project (http://archive.org/details/americanmethodism).
Metadata and Technical Guidelines
The Theology Library Digital Projects Department creates metadata to increase and facilitate discovery of and access to resources. Metadata requirements will be adjusted to suit the needs of each project; most metadata will be created by following Dublin Core elements, including the fifteen core elements, with custom fields as needed. The 15 core elements can be found here: http://dublincore.org/documents/dces/.
Digitization will be completed in accordance with standards and best practices for digital imaging, metadata association, and access. As part of standard digitization procedure, images with text will be processed with Optical Character Recognition (OCR) software so that these items will be text-searchable and accessible to users with screen readers for ADA compliance.
Equipment Policy
To complete digitization, the Theology Library has an Epson 10000XL photo scanner, along with professional software to enable scanning and processing of images. The first priority for use of the hardware and software will be for the scanning and processing of images related to Theology Library digitization projects.
Requests for use of the equipment should be only for items that cannot be scanned using the publicly available Book Scanning Stations in the library. Requests will be considered by the Digital Projects Librarian, and if accepted, will be queued with existing work. If a request exceeds the capacity of the Digital Projects Department staff or equipment, it will be declined.
Copyright
Copyright statements will be made available for all collections on an item or entry level. Statements will follow the guidelines of Rights Statements http://rightsstatements.org/en/ created by the Digital Public Library of America, to ensure our copyright statements can be easily incorporated into larger repositories using linked data.
Save