Faculty and Author Talks
In celebration of our School of Theology Faculty authors, the STH Library is pleased to sponsor faculty and author talks focused on recent publications and research. These intimate discussions hosted in the Library are intended to provide an opportunity for participants to be introduced to and engage with the work of a STH faculty member or author! Look for advertisements promoting our next event!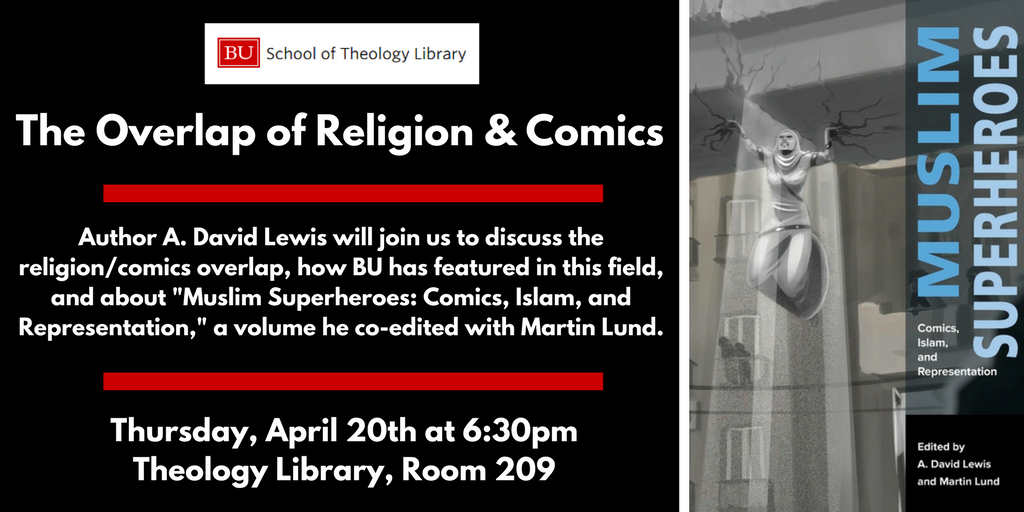 Thursday, April 20th, 2017 at 6:30pm
Library Instruction Room (209)
A. David Lewis
The School of Theology Library is thrilled to host writer, college instructor, and BU doctoral graduate A. David Lewis for a discussion on the overlap of religion and comics. Lewis will discuss how BU has featured itself in this burgeoning field, and the thinking that went into the forthcoming release of Muslim Superheroes: Comics, Religion, and Representation in conjunction with Mike Pregill at BU's Institute for the Study of Muslim Societies and Civilizations, Frederick S. Pardee School of Global Studies. Says Dr. Lewis: "Quietly, BU is becoming a large player in this niche field, and the on-campus resources that I'll highlight provide excellent entry points for young, rising, or veteran faculty to interface with this popular medium."
2016
Tuesday, March 29, 2016
12:30 to 1:30 pm
Dr. Theodore Hickman-Maynard
"A Postmodern practical theology of evangelism" excerpted from Joyful noise: The ecclesiological and evangelistic significance of racial diversity and religious pluralism in the experiences of historically black collegiate gospel choirs on three majority-white university campuses in greater Boston (2015).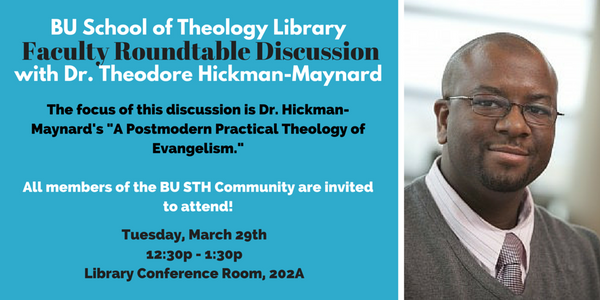 2015
Tuesday, December 1, 2015
12:30 to 1:30 pm
Dr. Andrea Hollingsworth
"The architecture of apophasis: exploring options for a cognitive scientific interpretation of the via negativa." Religion, Brain & Behavior (2015): 1-17.
Tuesday, October 27, 2015
12:30 to 1:30 pm
Dr. Daryl R. Ireland
"John Sung's Malleable Conversion Narrative." Fides et Historia. 45, no. 1 (Winter/Spring 2013): 48-75
Tuesday, September 22, 2015
12:45 to 1:45 pm
Walter G. Muelder Professor of Social Ethics, Dr. Nimi Wariboko
"The Charismatic City: Religious Sense and Sensibility for Future Urban Design" in The Charismatic City and the Public Resurgence of Religion
Purchase at Amazon
Find at your local bookstore
Tuesday, April 28, 2015
12:30 to 1:30 pm
Dean Mary Elizabeth Moore
"Prophetic grace : a Wesleyan heritage of repairing the world" in A Living Tradition: Critical Recovery and Reconstruction of Wesleyan Heritage
Purchase at Amazon
Tuesday, March 3, 2015
12:30 to 1:30 pm
Dr. Peter J. Paris
Introduction to Religion and Poverty: Pan-African Perspectives
Purchase on Amazon
Find at your local bookstore
Tuesday, February 24, 2015
12:30 to 1:30 pm
Dr. John H. Berthrong
"Confucian Formulas for Peace: Harmony" in Society, Dec 2014, Vol.51(6), pp.645-655

2014
Monday, November 10, 2014
1:00 to 2:00pm
Dr. John Hart
Introduction to Cosmic Commons: Spirit, Science, and Space
Purchase on Amazon
Find at your local bookstore
Monday, November 3, 2014
5:00pm to 6:00pm
Dr. M. Thomas Thangaraj
"South Asian Christianity: Practicing Tradition Today" in South Asian Religions: Tradition and Today.
Purchase on Amazon
Find at your local bookstore
Tuesday, October 28, 2014
12:30pm to 1:30pm
Dr. Walter Fluker
"Strategies and Resources for Ethical Leadership Education in the Twenty-First Century" in Educating Ethical Leaders for the Twenty-First Century.
Purchase on Amazon
Find at your local bookstore
Thursday, October 23, 2014
11:30am to 12:30pm
Dr. Robert Neville
Introduction from Ultimates: Philosophical Theology Volume One
Purchase on Amazon
From SUNY Press
Friday, October 10, 2014
1:30pm to 2:30pm
Dr. Dana Robert
"Gender Roles and Recruitment in Southern African Churches, 1996-2001″ in Communities of Faith in Africa and the African Diaspora.
Purchase on Amazon
Find at your local bookstore

Save