From our Research Collection: Holy Bible in Marathi (India)
The STH Library seeks to share more stories of the treasures in our closed stacks research collection. This is one of those stories: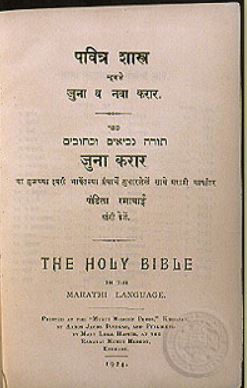 Pandita Ramabai, with the help of her students, translated this Bible into vernacular Marathi.  Ramabai, a convert from Hinduism, learned Hebrew and Greek in order to translate the Bible into simple Marathi for the benefit of the rural folk who found the classical form too difficult.
Ramabai had studied and taught in England and America, where she also began her work for the formation of a secular school for high-caste child-widows, a group of women who had nowhere to turn in 19th century India. The school, Shâradâ Sadan ("Home of Wisdom" in Marathi), grew into an umbrella organization called the "Mukti Mission," where this Bible was translated and published.
According to Clementina Butler, a missionary and biographer of Methodist missionaries, this Bible was also printed and bound by Ramabai's students who had converted to Christianity.  "It is," she says, "the only Bible in the world produced entirely by women and these all converts to Christianity."
The catalog record for this item is here.
Find more resources on Pandita Ramabai in our catalog.