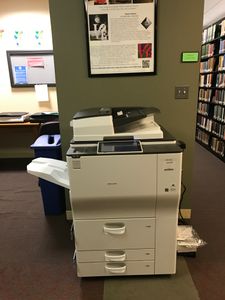 Throughout campus, new printers have been installed that allow BU students to self-release printing simply by swiping their BU ID! With self-release, there are no more trips to the library circulation desk to pick up printing, no more coversheets and no more sending a print job to the wrong printer, never to be picked up. The new printer for the School of Theology Library is located by the scanners in the main hallway (see the picture to the right).
Printing is easy! Hit File, and then "Print," and print the document to MyPrintBW or MyPrintColor. These printers are default on all public computers in the library. Walk to any MyPrint printer on BU's campus, swipe your BU ID (or enter your BU Username and Password on the touchscreen) and printing will start immediately!
You will need to add the new printer to your personal computer if you have printed from your laptop in the past. To add the print, follow the directions on this handout or visit the BU MyPrint website, which provides step-by-step instructions on how to set up your printer.
For more information, visit www.bu.edu/myprint.
Save
Save