Dean Moore Receives Honorary Degree from Hebrew College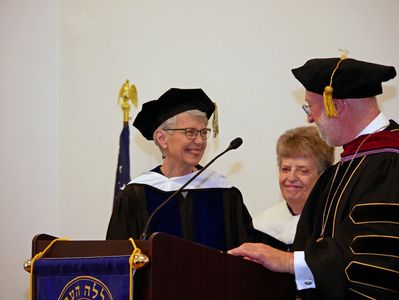 June 3, 2018, Newton Centre, MA – Hebrew College held its 93rd Commencement on Sunday, June 3 for graduates of the Rabbinical School of Hebrew College, School of Jewish Music at Hebrew College, Shoolman Graduate School of Jewish Education, and Hebrew College's Jewish Studies program. Boston University School of Theology Dean Mary Elizabeth Moore was awarded an honorary degree for her commitment to work in interreligious leadership and learning.
Rabbi Or Rose, Director of the Miller Center of Interreligious Learning and Leadership at Hebrew College, spoke about Dean Moore's work at the commencement ceremony, saying "We at Hebrew College got to know Mary Elizabeth in the context of the Boston Theological Institute after Hebrew College became the first non-Christian member institution…Mary Elizabeth welcomed us with her generosity of spirit, gracious hospitality, and profound commitment to interreligious engagement. For your scholarship, your teaching and your leadership of theological education, for your consistent insistence that we lift up and celebrate the sacredness of the human and natural world, for your deep and passionate commitment to interreligious learning and leadership, for your partnership with Hebrew College and our Miller Center for Interreligious Learning and Leadership and peer institutions, and for creating a community of theological institutions that recognize the need for deep roots in our unique traditions – and a need to come together to seize shared opportunities and confront common challenges – we present you with this honorary degree." 
Other honorary degree recipients included Rabbi Jeffrey A. Summit, PhD, Neubauer Executive Director, Tufts Hillel, Research Professor, Department of Music and Judaic Studies at Tufts University; Harold Kotler, CFA, Me'ah'99, Chief Executive Officer and Chief Investment Officer, GW&K Investment Management.
Hebrew College provided the following statement about their commencement activities: "We are proud of our graduates as they take their places as advanced learners, innovative teachers, and dedicated leaders. The multiple voices they have encountered in texts, in teachers, and in dialogue with each other will enable them to contribute to the enhancement of Jewish life, here in North America, in Israel, and throughout the world."