Visiting the School of Theology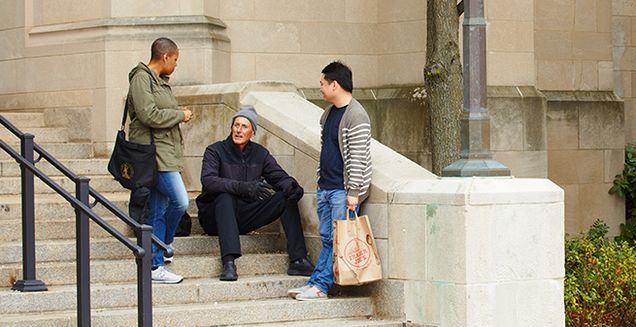 Whether you are an alum, a friend, or a prospective student, we would love to have you on campus! Our building is one of the original buildings at the center of the Boston University Charles River Campus and is next to Marsh Chapel. The "BU Central" stop along the Green B-Line is our nearest subway "T" stop, and is located directly across the street from our building. It is best to check-in at the Dean's Office (Suite 110 on the first floor) when you arrive so you can be directed to the appropriate office you will be visiting. See below for more information about traveling to and visiting the School of Theology.
Prospective Students: Schedule a Visit to Campus
Although a visit to the School of Theology (STH) is not necessary for admission, prospective students often find it helpful as they discern which school is right for them. Our community is best experienced in-person, and our Admissions Office team is happy to accommodate visitors to campus. Significant others, family, and friends are also welcome to visit with you.
There are two types of visitation days: Catch-a-Glimpse open house events, which happen once a semester, and individual visits, which you can arrange at any time. Our Admissions Office staff hopes to make your visit to campus helpful, memorable, and full of the hospitality that is characteristic of this seminary community.
Catch-a-Glimpse Open House Events
Schedule an Individual Visit