Catherine Medina-Perez ('15)
As a Philanthropy Associate at Santander Bank, Catherine Medina-Perez identifies community needs and advocates for economic development.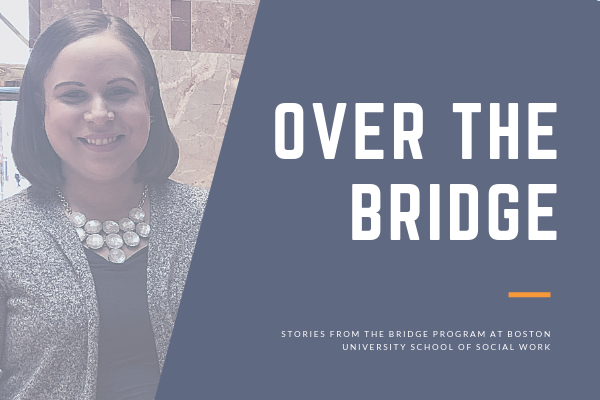 Catherine Medina-Perez '15 remembers working as a tutor to help a student at John F. Kennedy elementary school in her Boston neighborhood of Jamaica Plain. The student was not only learning new information, but doing so in a language that was foreign to him as an immigrant from the Dominican Republic.
"His parents didn't know English, so I would help with his homework, and then also work with his mother to support her in translating and reading letters from the doctor's office," recalls Medina-Perez, who also emigrated from the Dominican Republic at an early age.
Working at Hyde Square Task Force, Medina-Perez was following in the footsteps of a tutor from the agency who had helped her in elementary school. "I remember struggling with a new language and culture. That tutor helped boost my confidence early on. I ended up with a strong academic performance in high school and I eventually went on to earn a bachelor's degree in sociology."
But the same feelings of uncertainty surfaced again when Medina-Perez considered a master's degree in social work. Navigating the application process and juggling a full-time job, family, and financing seemed daunting – until mentor Yi Chin Chen, currently executive director at Friends of the Children-Boston, introduced her to the Building Refugee and Immigrant Degrees for Graduate Education (BRIDGE) program at Boston University.
"I knew the commitment in the Boston University master's program would be intense because it required me to complete two internships and go to school part-time, while I was working full-time. A lot of people told me it wasn't going to work," Medina-Perez says. "But BRIDGE helped me better understand graduate school; I met professors and students and was able to ask questions. When you meet people who did it, then you make it work for you."
The BRIDGE program aims to increase access to graduate social work education for refugees and immigrants, as well as critical cultural competency needs within the human services workforce. It is committed to increasing the number of professionally trained social workers from underserved culturally- and linguistically-diverse populations through a unique structure of support, one that provides a transitional bridge to the graduate academic environment.
Medina-Perez believes strongly in the need for social workers who come from underserved populations such as hers. "It is important for immigrants and refugees to become social workers because we are able to support people with a similar background. When participants seek services and they receive support from people who have a cultural connection or related experiences, they will be more likely to feel comfortable and use the tools and resources provided to them."
She speaks from experience. When Medina-Perez was a lead transitional coach at Hyde Square Task Force, she worked with many college students who were immigrants from the Dominican Republic. "I was a recent college graduate and the students saw me as a success story, so they felt more comfortable seeking my help. They knew I had encountered the difficulties of adjusting to a new culture and language, but I was able to overcome these obstacles and earn a college degree."
The experience helped Medina-Perez develop her interest in a social work career. "I wanted to work in the community and be a vehicle for economic development. At that time, all my work experience was in the non-profit sector doing youth development, advocacy and community organizing."
It was then that Chen introduced Medina-Perez to Lee Staples, BU sociology professor and director of BRIDGE. Soon after, she joined BRIDGE and met future mentors including alumna Dolores Ortiz '14 . "I found my first job after I graduated because Dolores knew me and advocated for me to get an interview at BNY Mellon," Medina-Perez says of becoming the company's youth leaders program manager.
Today, Medina-Perez is a philanthropy associate at Santander Bank, where she relies on her ability to feel the pulse of what's happening in the community to identify needs. It comes naturally, as she has been a community advocate since she was a teenager: tutoring low- to moderate-income elementary school students; cleaning up local parks; and working on a sexual harassment campaign to address violence in her Jamaica Plain neighborhood.
"Participating in these activities really helped me get to know my community and its challenges," she says, noting that it was a community vote that raised the issue of sexual harassment.
Medina-Perez circles back to her time as a tutor teaching English and being a translator for the Dominican student and his family. "If that boy didn't have resources from people who looked like him or had similar experiences, it would have been harder for him. Those kinds of connections and results are the reason I chose to follow this path."
---
Learn more about the BRIDGE Program here or support the Bridge Program by visiting this link.