Student Signature Events
Orientation
Spring 2018 Orientation Date:
Wednesday, January 17, 2018
Orientation aims to facilitate new students' transition into Boston University School of Public Health and to enrich each individual's unique SPH experience. You'll learn about life inside and outside the classroom – from academics to research, employment, and volunteer opportunities. Orientation also provides an excellent opportunity to meet your peers, the faculty and staff, and deans of the School. Visit the Orientation webpage to learn more! If you're interested in volunteering to help out with orientation, please contact Mary Murphy-Phillips.
Duck Tour
Annually Graduate Student Life sponsors an SPH Duck Tour for new students to explore the city of Boston. The tour takes participants throughout the streets of Boston, and into the Charles River for a unique view of the city!
Sunday, September 17, 2017: Tickets are $20 for SPH students, and $35 for non-SPH students. Lunch at Fire and Ice is included in the ticket price.
Fall Signature Event
Annually the Student Senate, in collaboration with other Student Organizations, plans a signature event for the SPH community.
This year's event is "BUSPH Stories" in which the Student Senate invites colleagues to tell tales of public health!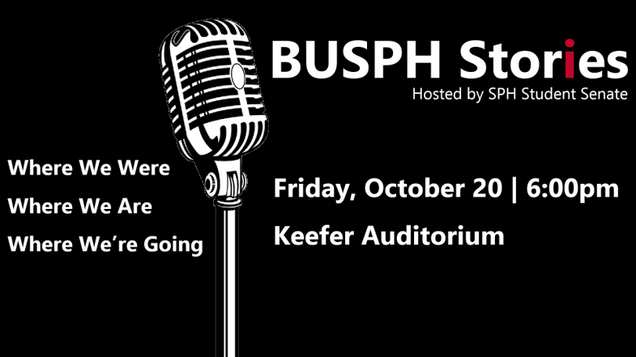 BUSPH Stories: Friday, October 20, 2017
6pm Keefer Auditorium
Faculty, students and staff share the moment they discovered their passion to help people, the conversations that solidified a dream, and the instant they knew they were public health gurus. Everyone has a story to share, and we want to hear yours!
Songs, photos, and speeches are due October 13, 2017.
Email phsenate@bu.edu with events you'd like to see at SPH!
In October 2016, the event was SPH Stories where the top 12 spoken word stories were read to the SPH community.  This year we are expanding it to song and photo submissions as well.
In November 2015, the event was a Public Health Lens photo contest in which students, staff and faculty submitted photos that captured the essence of public health. Click here to view the Fifteen Finalists from Fall 2015 Public Health Lens gallery event.
Cultural Show
A favorite of students year after year! The SPH Cultural Show is organized by the SPH International Student Organization and takes place during International Education Week. It is a night of great food from around the world, cultural art performances, and a colorful display of cultural fashion! The purpose of the event is to celebrate diversity and raise funds to donate to a global public health cause. Come on down for a night of great fun and experience the diverse community that is your local friendly BUSPH. 
Public Health Week
During the first full week of April each year, APHA brings together communities across the United States to observe National Public Health Week as a time to recognize the contributions of public health and highlight issues that are important to improving our nation. Visit the Public Health Week page to learn about events and activities at SPH!
SPH Talent Show
Every year the Student Senate invites fellow students, staff, faculty and alumni to share their hidden genius with the community! We hope you'll join us for yet another evening of extraordinary ability, flair and pure genius. If you're interested in participating in the talent show, please email the Student Senate.
Date/Time: Friday, April 6, 2018/ 6 p.m.
Where: Keefer Auditorium
Admissions: $5 tickets
All proceeds go to the BU Scholarship Fund.
Graduating Students may count their ticket purchase toward their Class Gift
!
Boat Cruise
Annually, Graduate Student Life sponsors an SPH Seaport Elite Cruise.
Date: Friday, April 20, 2018
Boarding Time: 6:00 pm
Cruise Time: 7:00 – 10:00 pm
Departing from: Rowes Wharf, Gate B, Boston
Bring a Government Issued ID to board the boat
Dinner Included—Cash Bar *First wine or beer complimentary*
Parking is available at Rowes Wharf Garage (30 Rowes Wharf). Please visit  their website for directions and alternate parking information.
SPH Student tickets: $30.00
General admission tickets: $50.00
NO REFUNDS for purchased tickets.
Tickets can be purchased using cash/check from Graduate Student Life. Tickets cannot be reserved in advance, they must be purchased and picked-up in person.
SPH Convocation Ceremony
Each year in May, the School of Public Health holds a convocation ceremony followed by a reception, planned by Graduate Student Life. The 2018 SPH Convocation Ceremony will be held Saturday, May 19 from 11:00 am – 1:00 pm at the Track and Tennis Center, 100 Ashford St. The reception will follow immediately after, from 1:00 – 3:00 pm. For more information please visit the Preparing for SPH Convocation page.
In addition to the convocation ceremony, Boston University also holds an All-University Commencement Ceremony in each year in May. The 2018 All-University Commencement Ceremony will be held Sunday, May 20, beginning at 1:00 pm at Nickerson Field, 285 Babcock Street. Tickets will not be required for either ceremony.