Community Engagement Core
Core Leader
Madeleine Scammell
Boston University School of Public Health
Core Description
Residents of communities affected by exposures to hazardous substances often seek scientific, technical and legal expertise to deal with the health and environmental consequences of contamination. BUSRP believes that scientists have a responsibility to work with residents for a healthier environment and we formed the Community Engagement Core (CEC) to connect our research with community needs.
Our goal is to link scientists with community groups in affected neighborhoods to raise awareness of environmental and public health concerns, increase the utility of BUSRP research, and support residents in efforts to achieve cleaner and healthier environments. We work to reduce exposures to environmental hazards and prevent adverse health outcomes by forming partnerships, building networks and resources, and sharing our research with community advocates.
As part of our work, the CEC, Research Translation Core, and several of our research projects have been responding to concerns and engaging with the community surrounding the New Bedford Harbor in an effective interdisciplinary approach since 1995. Learn more about the history of the harbor and our work there.
The CEC partners closely with NorthStar Learning Centers and Toxics Action Center, two local community groups working with affected residents in New Bedford and across New England, and the Science & Environmental Health Network (SEHN), a national network using science to restore public and ecosystem health. We also operate with the active participation of BUSRP principal investigators, student trainees, and research staff.
Community Engagement Partners
NorthStar Learning Centers help young people overcome poverty, discrimination, educational disadvantage, violence, and other adversity through learning essential competencies and hopefulness with which they can transform their lives and communities. Founded in 1974, Northstar has grown from one neighborhood-based preschool center to a constellation of programs that serve New Bedford area children from birth to adulthood.
Science & Environmental Health Network (SEHN) is a national organization that engages communities and governments in the effective application of science to protect and restore public and ecosystem health. SEHN encourages the practice of science in the public interest and the accurate interpretation of scientific information; identifies information, ethical concepts, and logic that have the potential to provoke essential change; and helps communities, organizations, and governments develop and implement sound environmental policies.
Toxics Action Center
 works side-by-side with communities across New England, providing residents with the skills and resources needed to prevent or clean up pollution at the local level. Toxics Action Center trains neighbors to not only defend their health and safety, but to think strategically and come together for proactive, positive change. Check out Toxics in Massachusetts: A Town-By-Town Profile, one of the products of our collaboration.
Learn about other CEC friends and allies.
Community Resources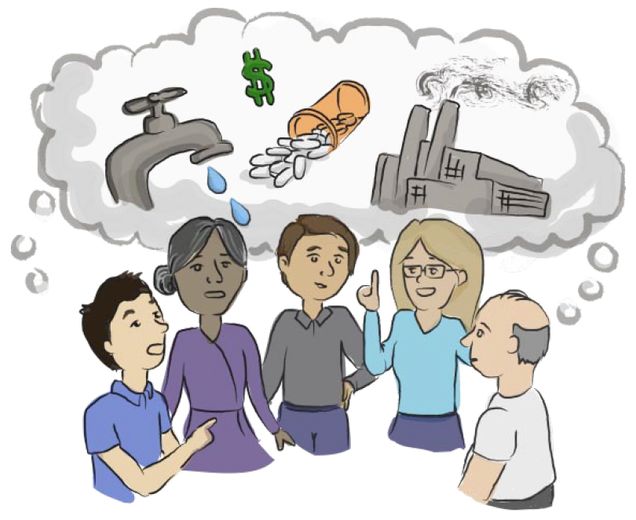 Health Studies Guide. Are you concerned about environmental health in your neighborhood? Would conducting a health study facilitate the change you want to see? The Health Studies Guide is designed to help community groups clarify questions and goals, determine whether or not a health study is an appropriate strategy to investigate an environmental health concern, and develop a strategic plan to ensure that the health study produces the information that the community wants and needs. Organized into seven chapters, the Health Studies Guide includes first person narratives, creative graphics and a glossary of useful words and terms. The Health Studies Guide reflects the efforts of many organizations including Center for Health, Environment & Justice (CHEJ), Greater Boston Physicians for Social Responsibility (GBPSR), Toxics Action Center and students and faculty affiliated with Brown University SRP CEC. Want to learn more? Listen to Madeleine Scammell (CEC), Sylvia Broude of Toxics Action Center and Stephen Lester of CHEJ discuss the guide.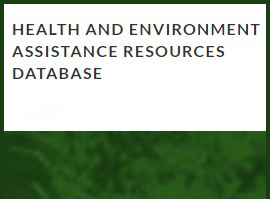 HEAR database. The Heath and Environment Assistance Resources (HEAR) database is a collaborative project of Alternatives for Community & Environment (ACE), Toxics Action Center, and BUSPH to connect community groups with experts who are dedicated to building a cleaner, healthier environment. The database is a tool for increasing and diversifying the expertise available to community groups with environmental and public health concerns. Every day, each of our organizations is called by concerned residents seeking legal, scientific, medical and technical expertise. Through the database, we link community groups with scientists, lawyers, and experts in environmental health to form partnerships that catalyze change.  Do you have expertise you can share? Include yourself in the database today.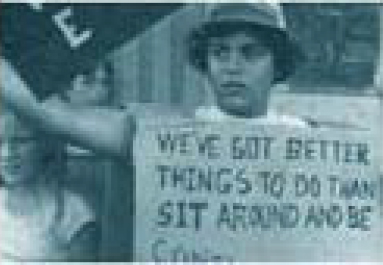 Additional Tools for Communities. Produced by BUSRP researchers and partner organizations, these resources are useful to residents with questions or concerns about health or contamination. Check out tools for engaging youth in contemporary environmental health issues, informative factsheets (PFAS, PCBs in New Bedford, 1,4 Dioxane, and Compact Fluorescent Lightbulbs), historic resident-led environmental victories and more.
News
This page is licensed under a Creative Commons attribution/share-alike license.