Additional Tools for Communities
Concerned residents of communities affected by contamination often emerge as leaders to protect the health of their families, neighbors and environment. Mothers like Lois Gibbs of Love Canal, NY, whose neighborhood had been the former dumping grounds for 20,000 tons of toxic waste, become some of the strongest advocates for clean and healthy environments. The Community Engagement Core works to support such advocates to reduce exposure to environmental hazards and improve public health.
In addition to the Health Studies Guide and the HEAR database, BUSRP and community partners have produced a variety of resources that may be useful to residents facing environmental and health concerns. These materials cover a range of topics and include factsheets, video lectures, articles and more. Explore the resources below and contact us if you would like more information.
Factsheets
Factsheet: Polyfluoroalkyl Substances (PFAS)
Created in collaboration with Toxics Action Center, this factsheet is designed to answer questions about PFAS exposure, regulations and advisories, heath effects and steps that residents can take to test the water supply and respond to contamination.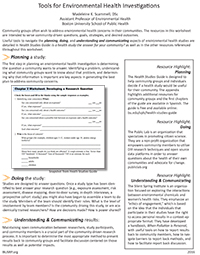 Factsheet: Tools for Environmental Health Investigations 
The resources in this worksheet are intended to serve community-driven questions, goals, strategies, and desired outcomes. This fact sheet accompanied a plenary talk by Madeleine Scammell at the 2016 Children's Environmental Health Summit in Anchorage, Alaska.

Factsheet: PCBs in New Bedford Harbor
Learn about PCBs and their impacts on water and aquatic life in this factsheet. The factsheet was created in response to a request from our community partners in New Bedford, home to a PCB-contaminated Superfund site.

Factsheet: 1,4-Dioxane
Learn about 1,4-dioxane, its exposure risks and health impacts. Adapted from USEPA Technical Fact Sheet by Ashley Miller, Wendy Heiger-Bernays and Madeleine Scammell.

Factsheet: Compact Fluorescent Light Bulb
What do you know about compact fluorescent light bulbs? Check out the factsheet by Sarah White and Wendy Heiger-Bernays to learn more.
Online Resources
Dioxin-Contaminated Chicken: An Environmental Health Disaster Scenario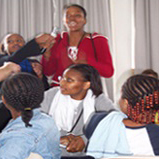 Our dioxin-contaminated chicken scenario is designed to engage students ages 14-18 in current environmental health issues. The aim is to teach students how to make informed decisions about an environmental health issue requiring a combination of critical thinking, analytic skills, and problem solving skills. This website shares all of the information needed to conduct this exercise. Learn more about how the scenario works.
Boston Consensus Conference on Biomonitoring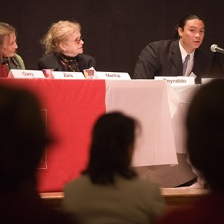 The 2006 Boston Consensus Conference on Human Biomonitoring brought together a cross-section of Boston area residents to engage with experts on human biomonitoring for environmental chemicals and to produce a consensus statement on their views. This website includes a video documenting the background and highlights of the conference.
Lessons from Love Canal

Health studies of Love Canal residents are still being conducted.  In an effort to catalog, preserve and make the science more widely accessible, the Research Translation and Community Engagement Cores maintain a website built to house the comprehensive bibliography of Love Canal health studies. Other features on the site include a chronology of events, pictures, videos, and links to activist tools.
New Bedford Harbor

Since 1995, our Community Engagement Core, Research Translation Core, and several of our research projects have been responding to concerns and engaging with the community surrounding the harbor in an effective interdisciplinary approach. Learn more about the history of the harbor and our work there.
Multimedia Resources
Video Lecture: Water Quality and Impacts on Human and Environmental Health
Mark Hahn (Project 4) and Monica Ramirez-Andreotta of PROTECT discuss water quality and public health in Northeastern University Myra Kraft Open Classroom Lecture Series. 1 hour, 38 minutes.  February 2014.
Video Lecture: Environmental Drivers of Chronic Disease Video Lectures
Jill Stein of Greater Boston Physicians for Social Responsibility (GBPSR) and Ted Schettler of the Science Environmental Health Network (SEHN) discuss the drivers of climate change and chronic disease and solutions for a healthier environment. Three modules, 1 hour 24 minutes total. December 2009.
Podcast: Environmental Carcinogen Policies
Learn about policies surrounding public education on carcinogens from Dick Clapp. 18 minutes. September 2009.
Documentary: World Wide Views on Global Warming
On September 26, 2009, thousands of people gathered at sites across 38 countries, spanning six continents, to discuss climate change policy that would later be shared at the UN Climate Change Conference (COP-15). Organized by Madeleine Scammell (CEC), BUSRP hosted one of six sites in the US, which included a three-way, transatlantic conference with La Cite des Sciences (Europe's largest science center) and the Danish Board of Technology in Copenhagen. Check out a documentary (14 minutes) and additional resources to learn more about this project.
This page is licensed under a Creative Commons attribution/share-alike license.