Many Students Still Getting Preventable Diseases Abroad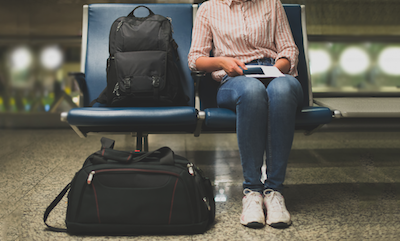 "There is an old saying, 'Travel expands the mind and loosens the bowels,'" says Davidson Hamer, professor of global health. That is certainly true for college students, who are three times more likely to study abroad now than 20 years ago—and for whom acute diarrhea is the most common illness during their travels.
Beyond acute diarrhea, many students returning from abroad have infections that can be prevented with vaccination or other methods, even though a majority of them received pre-travel health consultations, according to a new study co-authored by Hamer.
The study was published in the Journal of Travel Medicine.
"We found that easily preventable infections occurred in some student travelers," Hamer says, "including malaria, which can be prevented by effective antimalarial chemoprophylaxis, and hepatitis A and typhoid fever—for which we have good vaccines for prevention." Particularly worrying, he says, is that two of the students in the study contracted HIV while abroad.
For the study, Hamer and his colleagues used data from 432 student travelers who returned to the United States from abroad with an illness and were given a confirmed diagnosis at a US GeoSentinel site from 2007 to 2017. The GeoSentinel Global Surveillance Network was initiated in 1995 by the International Society of Travel Medicine with support from the Centers for Disease Control and Prevention (CDC), and now consists of 72 specialized travel and tropical medicine clinical sites in 31 countries around the world. Hamer is the principal investigator for GeoSentinel.
The 432 students had 581 confirmed diagnoses between them. Almost half of these diagnoses were gastrointestinal, and acute diarrhea accounted for 43 percent of gastrointestinal diagnoses.
The researchers found 7 percent of the students had vector-borne diseases. Malaria accounted for 41 percent of the vector-borne disease diagnoses, and dengue fever accounted for 32 percent. Three students, or 13 percent, had vaccine-preventable diseases: two of the students had typhoid and one had hepatitis.
Two of the students had acute HIV infections, "a very worrying finding," Hamer says. "The risk of this disease and the need for safe sexual practices should be emphasized."
The study found 70 percent of the students had had pre-travel health consultations, which is a much higher rate than that seen among tourists or people traveling to visit friends and family, the authors wrote. "However, this means that 30 percent did not," Hamer says. "For international travel, especially if travel is planned to a low- or middle-income country, a consultation with a travel medicine specialist to review potential risks and how to prevent infections is highly recommended."
The study's lead author was Kristina Angelo of the Division of Global Migration and Quarantine at the CDC, and the study was co-authored by Elizabeth Barnett of Boston Medical Center and the School of Medicine.
The other co-authors were: N. Jean Haulman and Anne Terry of the University of Washington; Daniel Leung of the University of Utah; Lin Chen of Mt. Auburn Hospital and Harvard Medical School; Stefan Hagmann of Alexandra Cohen Children's Medical Center of New York and the Donald and Barbara Zucker School of Medicine at Hofstra/Northwell; Noreen Hynes of Johns Hopkins University; Bradley Connor of the New York Center for Travel and Tropical Medicine and Weill Cornell Medical College; Susan Anderson of Stanford University; Anne McCarthy of the University of Ottawa; Marc Shaw of James Cook University in Queensland, Australia, and Worldwise Travellers' Health Centres; and Perry Van Genderen of Harbour Hospital in Rotterdam, the Netherlands.
---
Related Profiles: