Mural Reflects Resilience in Face of Addiction
On October 17, the City of Boston unveiled a mural by artist and South End resident Timothy McCool on the Finland Building, which houses the Boston Public Health Commission (BPHC) addiction services.
The mural was a collaboration between BPHC, the Mayor's Office of Recovery Services, the Mayor's Office of Arts and Culture, and the School of Public Health. Through the Activist Lab, SPH provided $1,000 to help fund the effort, and coordinated "arts ambassadors"—student volunteers who answered questions and engaged in dialogue about the mural, public art in general, and the reason why the city is dedicating resources to these kinds of endeavors, while McCool was painting.
"Public art humanizes urban settings," says Emily Barbo, the Activist Lab's communications specialist, who coordinated the student volunteers. "This neighborhood where I spend so much of my time and energy is often unfairly characterized as 'Methadone Mile,' and I think this mural helps to challenge that stereotype. There is beauty here. All you have to do is stop and look for it."
Elizabeth Henehan (SPH'15) agrees. The research analyst in the Department of Epidemiology spearheaded SPH's involvement in the project. "This mural forces any observer to look up, perhaps with a sense of wonder," she says. "That can help shake us, if just for one second, from the limited sense of self that causes so much suffering."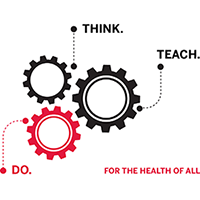 The mural, of several city rooftops and a sunrise in hopeful shades of blue, orange, and purple, took 10 days—and 71 hours of painting—to complete. Approximately 10.5 gallons of paint were used during the project.
BU partnered with the City of Boston and the Boston Public Health Commission last year to beautify the neighborhoods around the Melnea Cass Boulevard and Massachusetts Avenue intersection. The neighborhood is home to the Medical Campus, Boston Medical Center, several opioid treatment clinics, two of the largest emergency shelters in the region, a detox facility, a long-term residential treatment program, a resource and referral center, a peer recovery center, and the biggest harm reduction site in New England.
The mural was one of several initiatives championed by Boston during September's Recovery Month, a national effort to combat the social stigma around addiction, celebrate recovery, and promote awareness of recovery services.
"This building is the entry point into recovery for so many," says Monica Valdes Lupi (SPH'99), executive director of BPHC. "We want this physical entrance to reflect the welcoming nature of our staff and programs."
---
Related Profiles: