'Two Problems, Aligned Right, Can Solve Each Other'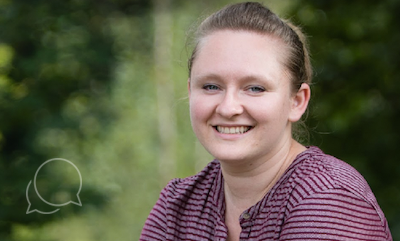 Maria Vertkin
MPH Student; Founder and Executive Director of Found in Translation
Breakfast: Tea
Hometown: Nizhny Novgorod, Russia ("It was still the USSR back then. I spent five years living in Israel before moving to the US, here in the Boston area, and I've been here for about 20 years.")
Extracurricular: "I really love partner dancing. I've been doing a lot of Lindy Hop and Samba de Gafieira, which is a Brazilian partner dance. Way back when, I actually used to be a competitive ballroom dancer."
What is Found in Translation?
Found in Translation is a nonprofit organization that I founded in 2011. We train low-income, bilingual women to become professional medical interpreters so that they can use their language skills to get jobs that pay $20, $30, $40, or $50 an hour, and get them and their families out of poverty. That also provides access to health care for patients who don't speak the same language as the provider. Getting an interpreter is actually a protected civil right of patients, but it's very easy for it to not be enforced because it's effectively a "silent" population.
Our big thing is that the training is free. We help with transport, and we provide on-site childcare. It's set up for women to succeed even if they don't have a lot of money in the bank.
What led you to found Found in Translation?
I'm an immigrant twice. I immigrated as a child and have been in the position of an ad hoc interpreter for my family, like a lot of immigrant children are, guiding my parents through situations that I had no business being a part of at all, never mind leading an adult through.
It was watching my own parents go from real members of society with social standing to suddenly being discounted and treated like children or animals because they weren't able to communicate.
Fast forward: I became a social worker, and I was working with families, and lot of women particularly, who had gone through a very similar story. I also saw women who were trapped in poverty but speak another language, which is a huge, huge, asset if you dress it up the right way.
I found out about medical interpreting, and I thought, This is the jackpot right there! You earn what somebody would earn with a master's degree, it's not a male-dominated profession, it's flexible so it works great for women with kids, and it's one of the fastest-growing professions in the US.
I was very excited and started making a list of my clients who were bilingual and the different interpreting programs—but soon I realized, not so fast. It still costs money to get the training. It might be just $1,000, which is a really great deal to earn master's degree-level wages, but if you don't have it, you don't have it.
My first attempt was to try to partner with existing organizations to see whether we could make this free and accessible. There was a lot of pushback, so I ended up starting an organization. I just felt that it needed to be done.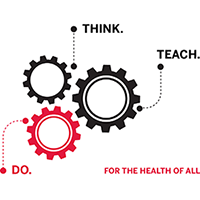 Why do you think there was that hesitation to create free training?
I think people truly in their hearts believe that when immigrants don't succeed it's because of something internal. I've been there, and I know that it's circumstantial, but I wasn't able to get people to believe that if you change the setup, if you change the access points, immigrants can actually succeed.
I interviewed employers of interpreters before we launched, and I remember one employer very clearly. I was asking basic questions: What are your minimum qualifications? It was going really well until they said, "Can I ask you a question off the record? These are homeless women, so what are we talking about here? You know, if someone turns around is their purse gone?"
I said, "No, actually. I'm formerly homeless and your purse is still right here." It's not something about you internally causing you to be poor, but I think even when people understand that intellectually, when they're picturing a homeless woman as their co-worker, their mind would go in that other direction.
How has it worked out?
Six years later, we've trained six classes. That's almost 200 women who have gone through the program. That employer has ended up hiring some of our grads, and I think probably doesn't remember that conversation.
It works. We have interpreters now who are not just interpreting but coordinating interpreter services or hiring other interpreters or teaching and training interpreters. We've been able to show that, if you're smart and hardworking and you have the right support, you can get into this profession and shine.
Really, because immigrants are disproportionately poor and disproportionately homeless in the US, we're concentrating bilingual talent in poor communities and they don't have a way to get out. Among poor people is where you're going to find the best future interpreters. They just need a chance. They just need to be able to get trained, and they need a chance to get out into the workforce.
Boston is now majority–minority, and over one-third of the population speaks a language other than English at home. Boston is full of people who don't speak the dominant language but are still by law, ethically, and morally entitled to access medical care with an interpreter.
These two social problems, if they're aligned right, can actually solve each other.
What is the importance of having medical interpreters?
Language is the difference between medicine and veterinary science. When a patient goes to the doctor and they can't communicate, it's like a dog going to the vet. Recently, when I took my dad to the doctor, I felt exactly like that. My dad has the right to hear his diagnosis and decide if he wants to tell me or not, but they were very willing to just bypass him and tell me everything. It didn't even occur to them to respect his confidentiality.
I just wanted to scream at them, "He's so much smarter and more eloquent than all of you. You're just not speaking the right language."
At the vet they're doing their best, because they don't have a way to communicate with the dog. They don't get informed consent. They don't get confidentiality. They go by proxy, but my dad is an adult who can speak just fine. They do have the technology to speak to him. It's called medical interpretation, and it's required by law.
It's even more basic than the mistakes the provider makes and how much longer it takes when they can't just ask the person questions. You can't get a medical history, which is essential to an accurate diagnosis. There's no right informed consent. That's pretty basic, but we just happily take it away from immigrant patients. We also often take away the right to privacy, because if they bring a family member with them, often the medical providers won't know that they're violating their civil rights—Massachusetts law and federal law—by letting family members interpret. Or, somebody pulls in an unqualified professional, for example a bilingual nurse or a janitor or a secretary to interpret, and they're not trained for it so the quality of care goes down, and there's no confidentiality.
I get that it's about resources and that it's not intentional or meant purposely to harm anybody. It's not on purpose that it's all immigrant patients that you're subjecting to these rights violations, but it's also not a coincidence. It needs to change.
What then led you to SPH?
Found in Translation is really a workforce development organization. It's public health on the workforce side, because it has to do with social determinants of health. The interpreting side is obviously very much about public health because it's addressing healthcare access and health disparities.
There are two things that bother me. One is that patients aren't getting access, and two is the apathy, the acceptance on the part of the medical community that immigrant patients aren't getting the same type of healthcare access. What I'm hoping to do while I'm here is get a deeper understanding of the medical system and how to change that.
What do you wish everyone working in health care knew about interpreting?
I want it to be standard for everyone to know, first of all, that it is a right, and to know you can't allow family members to interpret, and especially children to interpret for their parents, and you can't pull in the secretary or the janitor, and it's not OK if you just took some Spanish or whatever—because you're not speaking at their level, and you'd be underestimating them if you think that you're speaking to them at their level.
I would also like for everyone to know how to work with interpreters, because it's not always intuitive. For example, interpreters interpret in first person, so if the patient says, "My stomach hurts," a professional interpreter will never say, "She says her stomach hurts." The interpreter will say, "My stomach hurts." If the interpreter needs to add something of their own, they'll speak in third person about themselves, 'The interpreter would like to add…' You wouldn't know this unless you got trained in it, so I would love for everyone to get trained. Who knows? Maybe we can start this at BU.