'Public Health Is About Bridging the Divide'
Lois McCloskey
Associate Professor of Community Health Sciences
Age: 63
Hometown: Havertown, Pennsylvania
Breakfast: "Breakfast is absolutely my favorite meal of the day! I had oatmeal with yogurt, peanut butter, and apple slices, and sausage. And tea, always tea. I eat a huge breakfast."
What is your theatre background?
When I was very young I fell in love with acting. I think what I loved about it then, besides it being fun, was this idea of becoming other characters. I dropped theatre in college and didn't pick it up again until much later, but I did study anthropology, and I don't think it's a coincidence that anthropology is also about immersing yourself in other people's lives.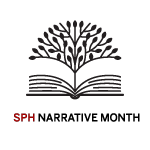 I went from anthropology in college to public health, and there wasn't a direct theatre connection in public health back when I started.
How did you come back to theatre, and connect it with public health?
For a long time, I sought ways to integrate the two. I trained in a workshop learning Theatre of the Oppressed, and I began integrating that with teaching medical interviewing for both doctors and nurse-midwives, which really interested me—how do you engage with patients in a way that gets you inside their life just for those 10 minutes?
What is the Theatre of the Oppressed?
The Theatre of the Oppressed was born of Augusto Boal, based on Freire's Pedagogy of the Oppressed. It's all about having people find their voice—and use it—in the public arena. A "coach" or director calls people in the streets together to enact scenes about the struggles in their everyday lives. People in the crowds become "spect-actors" in each others' scenes, and they get to understand each other and even change the conditions of their lives in the scenes. It's a way to fire people up for activism.   
This is something that relates very directly to public health, to advocacy, to engaging communities, to building empathy and moving people to come together and make change happen. Data can describe patterns, trends,  determinants, but it can't in the same way really move people to "get" the lives of others, and to become activists together and change their worlds. 
How have you used Theatre of the Oppressed to build public health narratives?
About 10 or 12 years ago, I conceived of a project called "The Drama of Medical Encounters" with a friend of mine who's an actor/director, literally on the back of a napkin at a restaurant, because we knew of a funding opportunity through the Schwartz Center for Compassionate Healthcare here in Boston.
Our intention was to use real, live stories that we would collect from both patients and providers through interviews about their most difficult, challenging medical encounters. I focused it around women who were members of the Boston Healthy Start Coalition, and on the provider side we worked with  OB/GYNs and nurse-midwives.
Then we used the transcripts of the interviews to create composite scenarios, and those scenarios were the "scripts" for workshops based on the Theatre of the Oppressed method. We did two grand rounds with OB/GYNs, and we did two workshops with the women from Boston Healthy Start.
For the grand rounds, our team would enact one of the composite scenes, and then freeze it right in the middle. For example, one I recall was with a Muslim woman from  Somalia who was there to discuss her pelvic pain, and her husband was with her, and the challenge for the physician was that he sensed that this pain might have had something to do with her relationship with her husband, but he knew  it would have been inappropriate for him to be alone with the woman within their culture. How to navigate that conversation? We would freeze the scene, and we would invite members of the audience, the spect-actors, to come up and enact their idea. No right answer, just try something out, and together discover a conversation that would work. The best part was debriefing and hearing from the clinicians how much they needed, but rarely had, the chance to talk to each other about all of their challenges.
That gave us the idea for the second workshop, where small groups of doctors and midwives created and enacted their own scenes based on their actual experiences. We had them go wild, take it way over the top with the frustration, the anger, the sadness of the character. We had the chair of OB/GYN standing up on a desk and venting the anger of a patient she had never forgotten, who actually had tried to jump on her desk! Then the actors  brought it down and tried different ways of de-escalating, or replaying a medical encounter they regretted. Again, it led to extremely rich conversations and was very well-received.
What about the patients?
We did something similar on the patients' side, though a little different. Again, we had composite scenarios, and we invited women to come up and enact encounters with actor-doctors or nurses. They would try new ways of expressing themselves, asking questions, getting what they needed. Women would find their power on the stage—power they said they never felt when talking to their providers. Maybe next time they could reach back and find it. In fact, we called these workshops 'rehearsals  for real life.'
Do theatre narratives enter into your teaching here at SPH?
I have certainly used improvisation in my courses, but nothing formal. For example, this year I taught the core integrated course Leadership and Management, and I used theatre in two ways.
One was in a class about workplace communication. My TA and I started by enacting a scene in which she had to approach me about unrealistic expectations and workload inequities. Then, the class directed us both on how to reenact it for a more successful conversation. We then sent students on their way, in small groups, to share difficult conversations that either they'd had and wish they'd done better, or that they were preparing to have with someone in their workplace. In the end, one group enacted and reenacted one of the students' scenes in front of the whole class until it was transformed and ready for a "real life rerun."
In another, I engaged [Learning and Development Program Manager] Chase Crossno as my consultant to help prepare students for presentations. This goes back to some recent training that Chase and I had this summer at the Alan Alda Center for Communicating Science. After a warm-up, we led the students in an improv exercise called "Half Life," where they present the crux of their presentation to a partner in three minutes, get feedback about the parts that worked or resonated the most, then do the same thing in one and a half minutes, and again in 30 seconds. The 30-second version contains the absolutely most important core message they want their audience to hear. It's incredibly clarifying—we could all use that, right? 
I continue to use the Alan Alda training to help students prepare for presentations, using improv techniques to enliven what in public health can be extremely dry, circuitous or jargon-filled messages.
There are few of us—[Clinical Assistant Professor of Global Health] Monica Onyango, [Assistant Professor of Global Health] Jen Beard, Chase Crossno, and I—who are getting together regularly to think about how stories and narrative of all kinds, and of course theatre and the arts more broadly, can be mainstreamed at SPH. I hope this Narrative Month inspires us all to communicate our science as story—I'm not very good at that yet—and tell stories about our careers that matter to students, to bring books and poems, even music or art into our teaching and our advocacy. 
Why do you feel storytelling should be more central?
Public health is about bridging the divide between science and lived experience. Or even more broadly about bridging worlds—between doctors and patients, researchers and communities, races and classes, our different disciplines, even opposing political ideologies. At the end of the day we're here because we want to move people to make changes, people with power and people without so much power. Stories go a long way to move people, and they go a long way in connecting us to each other. This is about a bigger change in the way we conceive of our mission and carry it out.