Shedding Light on Etiology of Severe Pneumonia in Ecuadoran Children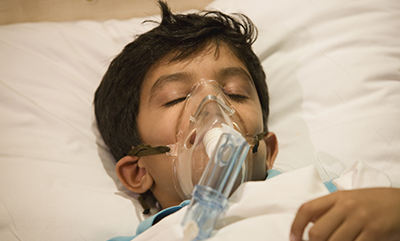 Despite statistics showing that pneumonia is responsible for as many as 28,000 deaths among children in Latin America and the Caribbean, relatively little is known about the etiology of the disease, especially in the Andes of South America, and what types of immunizations are most likely to improve the health of children in the region.
In an effort to answer those questions, researchers from the School of Public Health, working with colleagues in Ecuador, studied more than 400 children in Ecuador with symptoms of severe pneumonia and concluded that more efforts are needed to prevent respiratory syncytial virus (RSV), influenza, and low weight (or underweight) among young children.
In a study published online by the journal PLOS ONE, the research team said its results "illustrate the need for an RSV vaccine, and suggest increased coverage of the influenza vaccine" for children in Ecuador. In addition, further attention is needed to the effects of climate and altitude on infection risk, the authors said.
The study also highlighted the benefits of the Hemophilus influenza type b vaccine, as no child was found to be infected with that bacteria.
The study of children ages two months to 5 years found that the most common viral isolate (39.2 percent of cases) was RSV, a highly contagious virus that infects the respiratory tract of children, often in their first two years. Most of the children who tested positive for RSV were younger than 1. There is no RSV vaccine, although efforts to develop one are underway.
Other common viral isolates in the Ecuadoran children were human metapneumovirus, or hMPV (17.5 percent), adenovirus (15.3 percent), and parainfluenza virus (14 percent), the study found. Children infected with RSV had nearly twice the odds of hMPV infection, compared to those without RSV.
"Since RSV and HPIV-3 infect children in the first few months of life, our findings highlight the need for a vaccine against RSV and HPIV-3 for use in early infancy," the authors said.
They said the interaction between bacterial and viral pathogens, in terms of temporality and severity of childhood pneumonia, is unclear and merits further investigation.
The research team also recommended further efforts to improve coverage of the seasonal influenza vaccine, which now is given to fewer than 50 percent of Ecuadoran children ages six months to 4 years, according to estimates. The team said uptake of other vaccines, including the pneumococcal conjugate vaccine for infants, has exceeded 80 percent.
The study found that the circulation of the viruses was greatest during the rainy season—February to May—with moderate peaks between June and July. That seasonality has been identified in other studies of pneumococcal pneumonia. In addition, the authors said, recent studies have shown that location may play a role, with severe pneumonia more prevalent in high-altitude regions.
The researchers said that while underweight children have been shown to have elevated risks of infection, the association between being underweight and RSV infection in severe pneumonia remains unclear and should be further examined.
The study finding of "overlapping circulation patterns of RSV and bacteremic pneumonia, particularly during the rainy season … provides an important foundation for further studies in this region that are critically needed to develop improved strategies" for pneumonia prevention in Latin America, the authors concluded.
The study was led by David Hamer, professor of global health and a researcher with the Center for Global Health and Development. SPH co-authors were Sivani Jonnalagadda, a recent MPH graduate of biostatistics, and Lora Sabin, associate professor of global health.
Other researchers were: Oswaldo Rodriguez, Bertha Estrella, and Fernando Sempertegui of the Corporación Ecuatoriana de Biotecnología in Quito, Ecuador.
---
Related Profiles: