Student Studies How to Talk to Teens About Pornography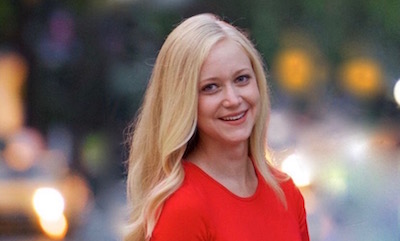 "A lot of youth are gaining knowledge about sex and sexual relationships from pornography," says MPH student Tiffany Christensen, "and there are few resources to help adults talk to adolescents about it."
For her practicum, Christensen supported a pilot curriculum attempting to do just that. Emily Rothman, associate professor of community health sciences, co-created a pornography literacy curriculum for high school-age students with colleagues at the Boston Public Health Commission (BPHC), and began testing it out over the summer with teens in the BPHC Start Strong program.
"I've been teaching graduate-level courses in pornography at MIT and Boston University since 2014," Rothman says, "and the idea was to take the information delivered to graduate students and figure out how to present it in a developmentally appropriate way to teenagers. The youth were amazing. They were adept critical-thinkers and had tons to say."
"I was really impressed with these kids," Christensen says. "Going into it I thought there was going to be a lot of laughing, or kids just not taking it seriously."
Instead, Christensen says, the Start Strong facilitators and the curriculum itself created an environment where youth could open up and be honest and thoughtful. "The kids can ask these tough questions, and get to have these questions answered by leaders in the field of relationship health."
"A theme that the youth returned to several times was that pornography gives young people unrealistic expectations about sex and consent," Rothman says, "and that it can contribute to unhealthy and even abusive behaviors if those expectations aren't countered somewhere else."
Christensen says the curriculum also brought teens into "meaningful conversation around oppression in media, whether that's sexism or racism or classism."
The first round of the curriculum—two hours a week for five weeks, with a group of about a dozen high school-age participants—ran over the summer, with a second round recently completed this fall. Christensen's practicum included helping to obtain IRB approval and obtaining informed consent from the participants and parents, distributing pre- and post-curriculum tests to see how teens' views and knowledge changed, and creating fidelity assessments (measuring how closely the actual course stuck to the curriculum as planned). Rothman is now in the analysis phase, with Christensen continuing to assist.
"I really hope that the research we did can further this work," Christensen says. Truly comprehensive sexual health education is vital, she says, and being literate about pornography is part of that.
Christensen says pornography and its affects on consumers is the subject of plenty of popular debate, and even included in the 2016 Republican party platform. However, she says, there is much more work to do to trace those affects, and to best handle them.
"As public health professionals we should be researching that," she says. "We have an obligation to research that and inform the public of our findings."
---
Related Profiles: