Researching Fall Prevention in HIV Patients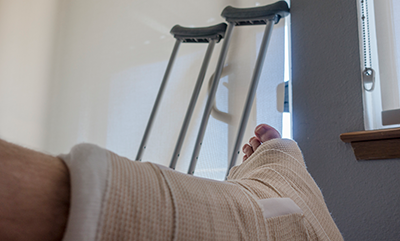 Up to one-third of middle-aged people living with HIV experience falls each year, many resulting in fractures.
Why those falls happen, and what can be done to prevent them, will be examined by a research team led by Richard Saitz, chair and professor of community health sciences at the School of Public Health.
Saitz and colleagues recently received a $658,000 grant from the National Institute on Alcohol Abuse and Alcoholism to study the role that alcohol and drug use plays in the elevated incidence of falls, fractures, and other physical impairments among people with HIV.
The study is among a series of observational and intervention research studies of the impact of alcohol and drug use in HIV-infected adults in the Uganda Russia Boston Alcohol Network for Alcohol Research Collaboration on HIV/AIDS (URBAN ARCH), led by Jeffrey Samet, professor of medicine at the School of Medicine and of community health sciences at SPH.
Falls are the most common cause of non-fatal injury in the US, and the costs of emergency department visits and hospitalizations are high. Past research has identified several reasons why people with HIV may be more susceptible to falls, including persistent inflammation and associated conditions, such as neuropathy and osteoporosis.
"Now that treatment for HIV disease is successful at controlling the virus, people are living much longer and developing conditions we see in other older people," Saitz said. "And some people develop these conditions and become frail or physically limited at younger ages," a problem known as "premature aging."
Meanwhile, alcohol and drug use can exacerbate those frailties and increase the likelihood of falls.
Saitz, who is also a professor of medicine at the MED, said fall prevention has not been extensively studied among HIV-infected patients, and he hoped the new study would shed light on interventions.
"Understanding risk factors and targets for intervention among people with HIV are essential," he said.
The research team will explore associations between alcohol and drug use and acute healthcare utilization for falls and fractures, and will also develop and test the feasibility of a fall-prevention intervention tailored to specific risk factors in the HIV population.
"Alcohol, other drug use, use of many medications, underlying inflammation, and other diseases and impairments related to HIV infection lead to people with HIV infection having a high risk of falling, even at a relatively young age," Saitz said. "Our study will serve to inform the development of ways to identify, prevent and manage falls, fractures, frailty and functional impairment."
The research team includes injury expert Traci Green, associate professor of emergency medicine and community health sciences, and Alan Jette, a disabilities' expert who is a professor of health law, policy, and management.
---
Related Profiles: