Simon to Receive Inaugural Knox Professorship
Boston University School of Public Health Professor Jonathon Simon has been named the first Robert A. Knox Professor, a newly created endowed professorship designed to support a faculty member who has an outstanding record of scholarship and teaching in public health and management.
The professorship was established through a $2.5 million gift from The Robert and Jeanne Knox Foundation, a philanthropic entity co-founded by BU Board of Trustees Chair Robert Knox (CAS '74, GSM '75) and his wife, Jeanne, who heads the BU Parents Leadership Council.
BUSPH Dean Robert Meenan said, "I know that I speak for the entire School in expressing our appreciation to Bob and Jeanne Knox and their family for this outstanding gift, which will support a leading faculty member in our community. "
In a letter to BU faculty, University Provost Jean Morrison commended Simon's appointment as "a significant milestone both for the University's continued advancement as a research leader and for the BU School of Public Health, which is each day innovating and discovering life-changing solutions to some of the greatest health challenges facing communities around the world."
Simon is Chair of the Department of International Health and Professor of International Health at BUSPH and also directs the BU Center for Global Health and Development (CGHD). He has worked in more than 20 developing countries, with extensive experience in Africa and South Asia.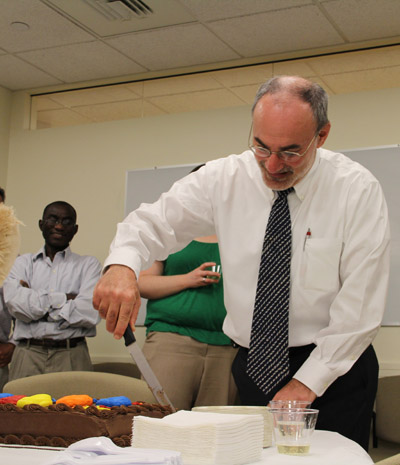 Jon Simon cuts cake at a celebration honoring his appointment as the first Robert A. Knox ProfessorSPH faculty and Center staff toasted Simon's appointment in a small ceremony on Tuesday. "I am honored to be named the inaugural holder of the Robert A. Knox Chair at Boston University," said Simon. "I deeply appreciate that Bob and Jeanne Knox have made such a generous commitment to promoting the Center for Global Health and Development and the School of Public Health in our efforts to address challenging global health problems. I am also grateful to President Brown and Provost Morrison for their ongoing support of the University's global health efforts. "
For much of the last decade, Simon has been part of a CGHD team evaluating the social and economic impact of the HIV/AIDS epidemic in developing countries, as well as maintaining an active role in the center's ongoing child survival research work. He serves as principal investigator of an applied research project on orphans and vulnerable children. He is involved in a range of technical work on HIV economics and program evaluation, including an evaluation of the U.S.-funded President's Malaria Initiative. Dr. Simon also teaches a master's-level course on the history of the public health movement and advises doctoral students.
The Knox family has both a financial and familial connection to the vital intersection of management and public health. Robert Knox's professional focus is on health-care related investments as Senior Managing Director of Cornerstone Equity Investors, which he co-founded in 1996. Jeanne Knox worked for many years as a nurse at Boston City Hospital, which later merged with BU Medical Center Hospital to become Boston Medical Center. Their son, Bob Jr., graduated from BUSPH in January 2012 with an MPH in health policy and management.