Stephen Kalberg
Professor
Sociology 255 | 617.358.0632 | kalberg@bu.edu
The Social Thought of Max Weber (Social Thinkers Series)
Searching for the Spirit of American Democracy: Max Weber's Analysis of a Unique Political Culture, Past, Present, and Future
Max Weber's Comparative-Historical Sociology Today Major Themes, Mode of Causal Analysis, and Applications
COURSE SYLLABI
SO 203: Introduction to Sociological Theory
SO 303: Substantive Themes in Sociological Theory
SO 701: Advanced Sociological Theory
BIO AND RESEARCH
Stephen Kalberg is Professor of Sociology and Affiliate, Center for European Studies, Harvard University. He teaches sociological theory, American society, and comparative political cultures. Kalberg has published widely on Max Weber and German and American societies. He is presently completing Max Weber's Sociology of Civilizations. He has translated Weber's classic study, The Protestant Ethic and the Spirit of Capitalism.
RECENT PUBLICATIONS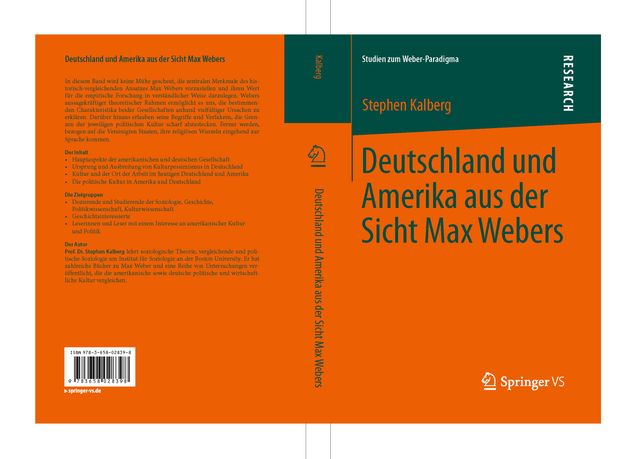 2013. Deutschland und Amerika aus der Sicht Max Webers.  Cologne: SV-Verlag.
2013. Searching for the Spirit of American Democracy: Max Weber's Analysis of a Unique Political Culture, Past, Present, and Future.  Boulder, CO: Paradigm Publishers.
Protestant Ethic. Blackwell Encyclopedia. May 2016.
Max Weber's Comparative-Historical Sociology Today: Major Themes, Mode of Analysis, and Applications. Farnham, Surrey, UK: Ashgate Publishers (April, 2012).
"Tocqueville and Weber on the Sociological Origins of Citizenship: The Political Culture of American Democracy" Citizenship Studies, Vol 1. No. 2. 1997
The Modern World as a Monolithic Iron Cage? Utilizing Max Weber to Define the Internal Dynamics of the American Political Culture Today. Max Weber Studies, May 2001.
2011 (2000, 2003). "Max Weber." In George Ritzer, ed., The Blackwell Companion to Major Classical Social Theorists. Oxford: Blackwell.
2010. Max Weber, The Protestant Ethic and the Spirit of Capitalism. The Revised 1920 Edition.    Translated and Introduced by Stephen Kalberg.   New York: Oxford University Press.
2010. les valeurs, les idees et les interets: introduction a la sociologie de max weber. Paris: La Decourverte.  Translated by Philippe Chanial.
2009. "Max Weber's Analysis of the Unique American Civic Sphere: Its Origins, Expansion, and  Oscillations." Journal of Classical Sociology 9 (1):117-41.
2008. Max Weber: Principales dimensiones de su obra.  Buenos Aires: Prometeo. (also available in German, Italian, Portuguese and Turkish).
2008 (Translator and editor). Max Weber: 'The Protestant Ethic and the Spirit of Capitalism' and Other Writings on the Rise of the West. New York: Oxford University Press.  Includes Introduction, five chapter introductions, Chronology, and Glossary.
2007. "A Cross-National Consensus on a Unified Sociological Theory? Some Intercultural Obstacles." European Journal of Social Theory 10:206-19.
2005. (editor) Max Weber: Readings and Commentary on Modernity.  Oxford: Blackwell.
1980. Kalberg, S. Max Weber's types of rationality: Cornerstones for  the analysis of rationalization processes in history. American Journal  of Sociology, 85, 1145-1179.