The Tenth Annual Albert Morris Lecture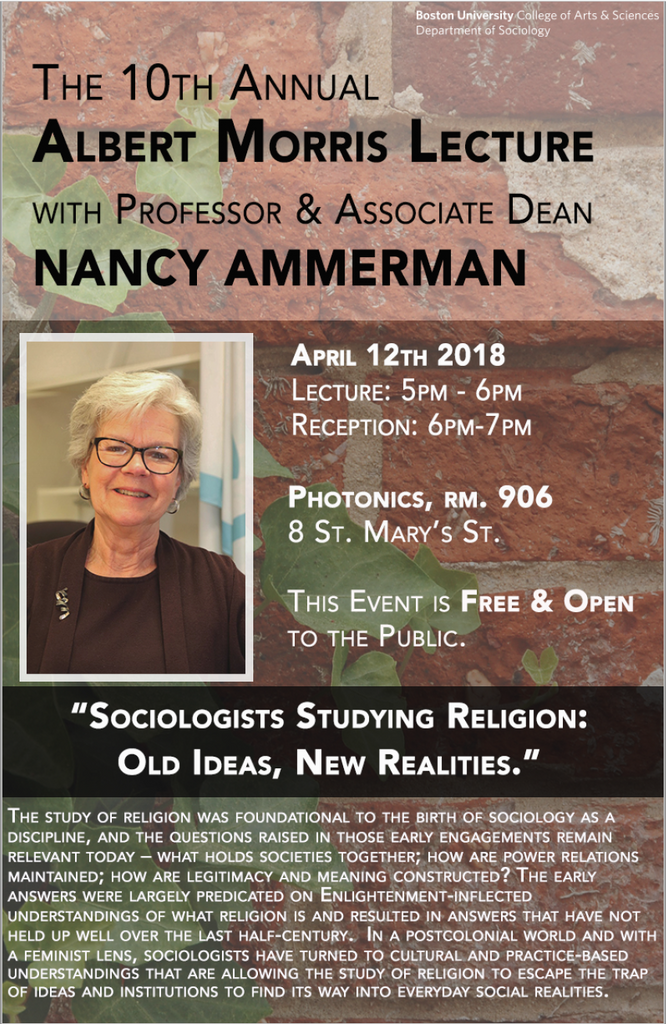 The Department of Sociology at Boston University is pleased to announce the Tenth Annual Albert Morris Lecture in Sociology. Named in honor of the first Chair of the BU Sociology Department, this lectureship was established in 2009 after a generous gift from an anonymous alumnus.
This year's speaker is Nancy Ammerman, Professor in the BU Department of Sociology and the BU School of Theology, as well as Associate Dean of the Faculty for the Social Sciences in the College. Dr. Ammerman's most recent research has focused on the social structures and practices of everyday lived religion. Her most recent book, Sacred Stories, Spiritual Tribes: Finding Religion in Everyday Life, (Oxford University Press, 2013) documents the way religion and spirituality operate across the many domains of daily lived experience, the way "the sacred" is encountered both within and beyond the boundaries of official religious institutions and practices.  This follows Everyday Religion: Observing Modern Religious Lives (Oxford University Press, 2006), an edited collection of essays exploring "lived religion" in Europe and the U.S.
Professor Ammerman will present "Sociologists Studying Religion: Old Ideas, New Realities"
The Tenth Annual Albert Morris Lecture in Sociology will be held Thursday, April 12th, 2018 at 5PM in the Photonics Colloquium Room (906), on the 9th floor of 8 St. Mary's Street, Boston, MA 02115.
This event is free and open to the public. Reception to follow.
For more information, please contact hwalters@bu.edu.