Emeritus Professor George Psathas honored by Society for Phenomenology and the Human Sciences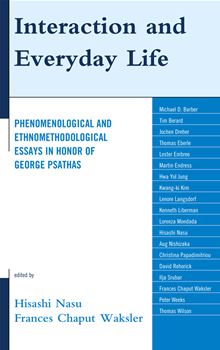 At its annual meeting, November 1-3, 2012, in Rochester, N.Y., the Society for Phenomenology and the Human Sciences (SPHS) honored George Psathas, Emeritus Professor of Sociology (Boston University) for his contributions to phenomenological sociology and ethnomethodology with a special session and a Festschrift, Interaction and Everyday Life, edited by Frances Chaput Waksler and Hisashi Nasu, published by Lexington Press (Rowman and Littlefield) 2012. Contributors to the Festschrift were nineteen internationally known scholars from the United States, Germany, South Korea, Switzerland, and Japan. In their contributions they noted how, in various ways, Psathas had influenced and informed their thinking and their work.
Please see George Psathas's website for more information.