Undergraduate Course & Labs
"Smart Lighting EK 131/132: this is one of the BU College of Engineering freshman modules intended to introduce new engineering students to electrical engineering concepts as part of our retention program. Students use a similar syllabus to the outreach course above, but the course assumes pre-selection to engineering. This course is now in its second year.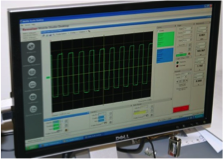 EK131/EK132 (Smart Lighting): In the Spring of 2010 and 2011 we are teaching two offerings of our freshman Introduction to Engineering module on Smart Lighting.   The modules have 13 classes and labs using Mobile Studio.  The module (delivered two times, for a half semester each) is based on the Summer Challenge program.  The Introduction to Engineering  modules are developed more leisurely and cover far more supporting material.  There is much more time for hands-on Mobile Studio work.  The first two offerings in 2010 had a total of 27 students. The class meet twice a week for 2 hours each in the lab.  Students have five labs to complete, reinforcing the discovery work done  in the classes. The Spring 2011 sections have a total of 23 students.
EK131/EK132 (Optical Communications): In the Spring of 2010 Hatice Altug taught two offerings of our freshman Introduction to Engineering module on optical communications.  It is largely hands-on electronics.  She teaches in the electronics lab (as opposed to using Mobile Studio).  Sources are LEDs, and it is only at the end, as they confront limited range and interference, that Hatice introduces plastic fiber to lengthen the link. This course is repeated by Anna Swan in the fall of 2010 with 51 students in two sections.
EC 481 (Nanotechnology): This new course is developed based on the nanotechnology work of Hatice Altug. This very popular undergraduate course covers plasmonics, nanophotonics, and light-based communications. The course had 14 students in it's first offering in 2010 and will be expanded to accommodate 30 students in the fall of 2011.
High Tech Tools & Toys Lab: In the spring of 2010 we had 6 project students (all freshmen and sophomores) working on a variety of introductory design and research problems related to lighting.  Several carried over the summer period working on efforts related to optical sensing.   In 2010 this lab was renamed and reorganized as the SLURP lab.
Smart Lighting Undergraduate Research Program (SLURP) Laboratory: We reorganized the mission and focus of the former High Tech Tools & Toys Lab to address our educational needs for the Smart Lighting ERC. This lab is now equipped with 10 contemporary workstations, a mechanical shop area, and a lighting cage compatibile with the Smart Spaces facility at RPI and the Communications Testbed at BU.  We anticipate hosting a variety of projects engaging undergraduates in this facility as it serves as a persistent lab space for experimenting with, and designing, the next generation of lighting, biosensing, and communications projects. The lab will support at least 8 undergraduates in research experiences through the end of year 3 (spring 2011)
Outreach VLC Transceiver: In the summer of 2010 we developed a prototype VLC transceiver that was developed to be a 'take-away' unit that students would self-assemble as part of the outreach course. This low-cost unit consists of a PCB and components that are assembled by students during a soldering exercise. The completed unit is used for exploring LED communications in the analog and digital domains and is capable of achieving short range optical communications between two computers using USB ports.
Fall 2010, we shipped 40 transceivers to Howard University for their adoption, and 40 to RPI. The RPI boards were used in an outreach effort to Africa led by Ken Connor of RPI.
Support of Educational Partners: Prof. Little served as a technical advisor to a team of Senior Design students at Rose-Hulman (spring 2010). This team targeted the vehicular communications problem using optical communications.
Tufts University Offerings: EE 249 Course: Prof. Joyner taught a course titled "Devices and Circuits for Optical Communications." Spring 2010. The course has an enrollment of 8 students.