The River Once Wild
Can environmentalists save California's river of agriculture without destroying its farmers?

Jesus Saves?
How spiritual awakenings help people recover from drug addiction.

Sharks: Ocean Spies of the Future
Researcher Jelle Atema searches for smell neurons in shark brains to someday steer the animals for the US military.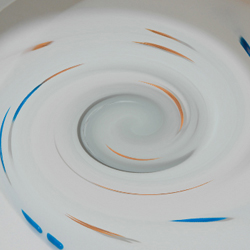 Drugs in the Water
How our medicine cabinets are contaminating nature.

Auto Immunity
How new technology is turning your car into a spy machine.
Empathy On The Brain
Neurology explains our fascination with reality TV

Evolving Truth
Religious scientists find a paradoxical yet satisfying middle ground in the evolution debate.
Photo: Copyright Behavioural Ecology Research Group, Oxford University, users.ox.ac.uk/~kgroup
Something Foul in the Air above Hog Farms
Researchers find antibiotic resistant bugs floating in dust particles above hog farms.
Universal Language
One linguist works to unpack Haiti's prejudice against its native tongue