Leah Eisenstadt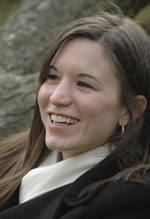 Leah remembers being fascinated as a child with a fold-out on human evolution from National Geographic, intently watching patterns formed by colonies of stingin' caterpillars on the gum trees in Louisiana, and viewing mucky stuff from the back yard under her first microscope—the position-the-mirror-exactly-or-it-wouldn't-work kind.
Later, she used light microscopes (so much easier) in high school, college, and graduate school as she pursued science and engineering studies. She has variously stood in a fake rain storm in Virginia, maintained human-waste-blenders in Baton Rouge, and in Atlanta had come a little closer to understanding how head injuries can lead to neurodegenerative disease. Her fascination with all things gross, weird, and mysterious led her to believe that she wanted a Ph.D. in biomedical engineering. But she was wrong.
Today, Leah writes about medicine, biology, and the environment. She hopes to one day run a marathon, take the perfect photograph, stop using the passive voice, own her own piano, and truly understand string theory.