Thursday Lunch Lecture Series
The Shaw Center sponsors weekly lunch talks about a variety of issues related to women's empowerment and diversity in ministry. These are held almost every Thursday from 12:30-1:20pm, and feature a combination of lecture and discussion for students, faculty, staff, alumni/ae, and friends! Food is normally provided, but we regret to inform you that COVID-19 restrictions will not allow us to gather in person to share food. All are welcome to take a lunch break with us via Zoom during Fall 2020!
Join us for the Thursday lunches!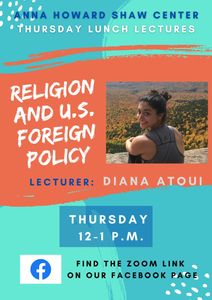 Other Fall 2020 Speakers:
Chasity Jones, 3rd Year MDiv
Dean Mary-Elizabeth Moore
Sharaya Johnson, President of Association of Black Seminarians

Raíces Latinas

Cate Nelson, 2nd Year MDiv
ThECOlogy
Unitarian Universalist Association