Test Kitchen: DIY Impossible Burger
By Patricia Orus-Deya SAR 2023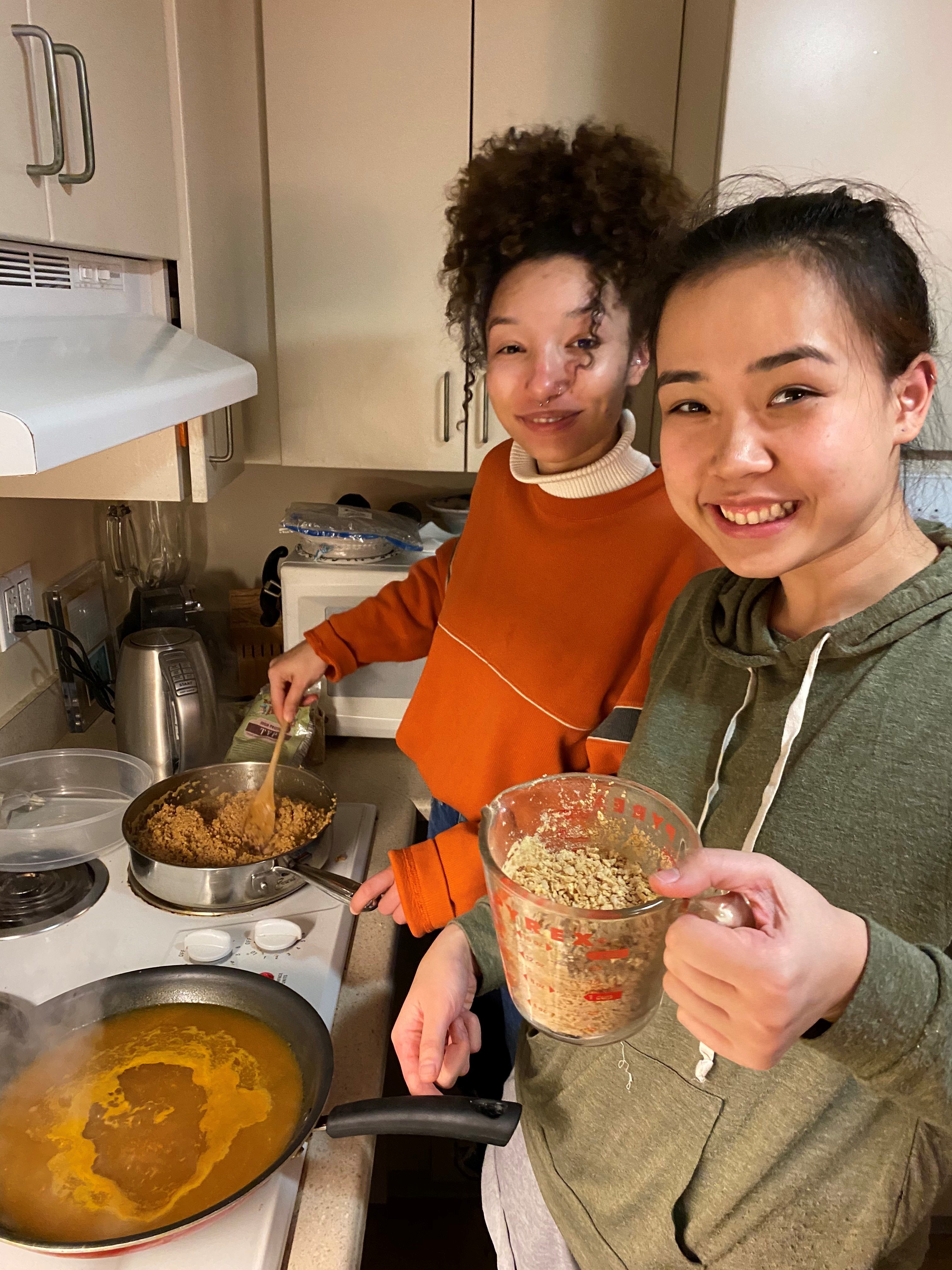 What is the impossible burger?
● An Impossible Burger is a plant-based substitute for meat products.
● In order for the DIY impossible burger to have a source of protein, we used Textured  Vegetable Protein (dry soy). Textured Vegetable Protein is made from ​the soy flour  derived from de-fatted soybean flakes.
● Why is it Textured Vegetable Protein good for you? It is a highly nutritious soy product  that is high on proteins and low on fats. Textured Vegetable Protein a ​good source of  dietary fiber, iron, magnesium, and phosphorus. The ​DIY impossible burger is also low in cholesterol and saturated fats.
What We Liked
● If you leave the DIY impossible burger for a little extra time in the pan with high heat  and olive oil it gets crispy. The crispy taste was really good ​it really had the texture of a  real burger!
● We really liked using the beets because it added the bright color ​and extra nutrients that  you wouldn't get in a normal burger.
● We really liked that the DIY impossible burger actually tasted like a burger. You can  taste all the spices that we added, making it full of flavor. The liquid smoke gave the  impossible burger the smell of an actual burger in the grill.     Tips and Tricks
● Leave the skin of the beets for more vitamins. B​eetroots are a great source of fiber, folate  (vitamin B9), manganese, potassium, iron, and vitamin C.
● Make sure to use a nonstick frying pan with the DIY impossible burger to prevent the  burgers from sticking to the pan.
● Add condiments if you want!! We are not putting any toppings on these DIY impossible  burgers but it's up to you to add any topping! Some examples of healthy toppings are  tomatoes and lettuce.
● In order for the extra grease to drain put paper towel underneath the burgers after cooking  them.
● In order for the process to be quicker, you should get a food processor (ninja bullet). This  also helps with the texture of the DIY impossible burger. If you do not have a food  processor ​chopping really finely with a knife and then mixing works fine!
● If the hamburger is falling apart while you're cooking it, you should add more potato  starch. This will add more firmness.
● Be careful not to stain your hands with the beets. Wash hands with soap and water after  cutting the beet to prevent staining.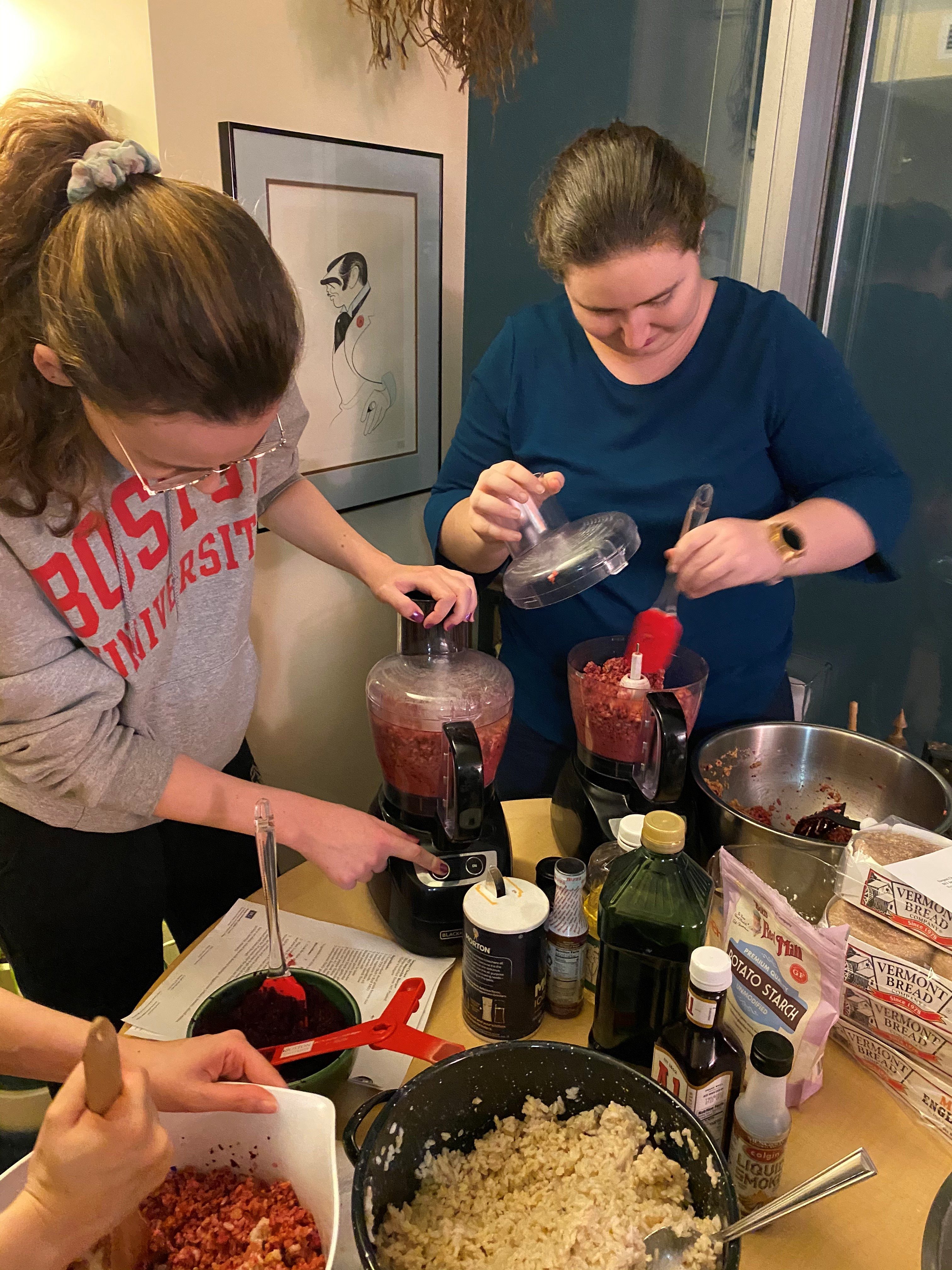 Sargent Choice DIY Impossible Burger
Recipe modified from 365 Planted
Yield: 6 burgers
Ingredients:
1 ½ cups cooked short grain brown rice
2 cups TVP (Bob's Red Mill)
2 cups vegetable broth
2 teaspoons vegetable oil
¼ cup potato starch flour
1 teaspoon salt
Black pepper to taste
1 teaspoon garlic powder
1 teaspoon onion powder
1 teaspoon black garlic powder (optional)
1 tablespoon liquid smoke
Pinch red pepper flakes
1 teaspoon A1 steak sauce
2 teaspoons Better than Broth vegetable bouillon
2 tablespoons finely grated beets (note: this is for color, beet powder could be substituted)
Vegetable oil or olive oil for sautéing the burgers.
Directions:
Cook the short grain rice according to package directions and set aside.
Place 2 cups TVP in a medium-sized heat-safe bowl. Bring 2 cups vegetable broth to a boil and pour in the TVP. Let sit for a few minutes for the TVP to absorb the liquid. Fluff with a fork.
Add the TVP, rice, and the rest of the ingredients to a food processor and pulse until well mixed but not so much it loses its texture.
Form into patties and sauté in a lightly oiled pan (approximately 2 teaspoons) over low heat because the burgers need time to get rid of some of the moisture. It also helps to chill in the refrigerator for 20 minutes after the patties are formed. Flip burgers when lightly browned and cooked until heated through.
Serve on whole wheat buns with desired toppings. Suggestions: lettuce, tomato, sliced onions, pickles, ketchup, mustard)