What is Sargent Choice Night?
Sargent Choice Night is a big event on campus!  Each semester, the Sargent Choice Nutrition Center and BU Dining join together to plan a special Sargent Choice dinner menu to serve in the dining halls across campus.  You'll have the opportunity to sample the new items Sargent Choice has been cooking up and share your feedback!
In the video above, registered dietitians Jennifer Culbert and Laura Judd and Executive Chef Adam Pagan describe our Fall 2011 Sargent Choice Night.
Word on the street…
We encourage you to share your feedback through a variety of media including surveys, Facebook, Twitter, and more.  Take a look at what students are saying about  Sargent Choice Night!
`
In the video above, a BU student describes his experience at Sargent Choice Night.
When is it?
For information about the next Sargent Choice Night, check out our Sargent Choice Events page.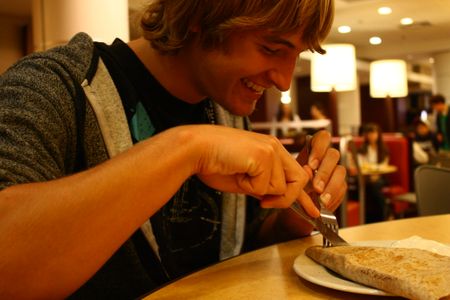 Videos by BU Dining and the Sargent Choice promotional team.  Photos by Rochelle Li.