Susan Kandarian, PhD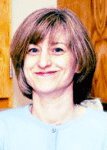 Title

Professor, Department of Health Sciences, Boston University Sargent College
Programs in Human Physiology
Research Assistant Professor, Department of Physiology, Boston University School of Medicine

Office

635 Commonwealth Ave

Email

Phone

(617) 353-5169

Education

1981 B.A., Albion College, Albion, MI, Biology major
1983 M.S., The University of Michigan, Ann Arbor
1988 Ph.D., The University of Michigan, Ann Arbor
1989-1992 Postdoctoral experience, trained with Dr. Javier Navarro at Boston University School of Medicine while Assistant Professor of Health Sciences, Boston University, see publications)

Website or Lab
Scholarly Interests
Work in my laboratory focuses on understanding the pathways that mediate skeletal muscle atrophy using cellular and molecular approaches. Most recent work is on the role of NF-kappaB pathways in regulating atrophy in disuse and cachectic conditions. Studies are geared towards identifying genes that are necessary or sufficient for the induction and progression of atrophy.
Selected Publications
Jackman RW, Wu CL, Kandarian SC. (2012) The ChIP-seq-defined networks of Bcl-3 gene binding support its required role in skeletal muscle atrophy. PLoS ONE, 7(12): e51478.
Jackman RW, Cornwell EW, Wu C-L, Kandarian SC. NF-kappaB signaling pathway and transcriptional regulation in skeletal muscle atrophy. Exp Physiol. 2012 Jul 30.
Yamaki T, Wu CL, Gustin M, Lim J, Jackman RW, Kandarian SC.  Rel A/p65 is required for cytokine induced myotube atrophy. Am J Physiol Cell Physiol. 2012 Jul;303(2):C135-42
Wu CL, Kandarian SC. Protein overexpression in skeletal muscle using plasmid-based gene transfer to elucidate mechanisms controlling fiber size.  Methods Mol Biol. 2012;798:231-43.
Kielbasa OM, Reynolds JG, Wu CL, Snyder CM, Cho MY, Weiler H, Kandarian S, Naya FJ. Myospryn is a calcineurin-interacting protein that negatively modulates slow-fiber-type transformation and skeletal muscle regeneration. FASEB J. 2011 Jul;25(7):2276-86.
Reed SA, Senf SM, Cornwell EW, Kandarian SC, Judge AR.  Inhibition of IkappaB kinase alpha (IKKα) or IKKbeta (IKKβ) plus forkhead box O (Foxo) abolishes skeletal muscle atrophy. Biochem Biophys Res Commun. 2011 Feb:405(3):491-6
Wu CL, Kandarian SC, Jackman RW.  Identification of genes that elicit disuse muscle atrophy via the transcription factors p50 and Bcl-3.  PLoS One. 2011 Jan 13;6(1)
Rhoads MG, Kandarian SC, Pacelli F, Doglietto GB, Bossola M.  Expression of NF-kappaB and IkappaB proteins in skeletal muscle of gastric cancer patients. Eur. J. Cancer. 2010 Jan;46(1):191-7.
Jackman RW, Rhoads MG, Cornwell E, Kandarian SC.  Microtubule mediated NF-kappaB activation in the TNF-alpha signaling pathway. Exp Cell Res. 2009 Nov 15;315(19):3242-9.
Van Gammeren D, Damrauer JS, Jackman RW, Kandarian SC.  The IkappaB kinases IKKalpha and IKKbeta are necessary and sufficient for skeletal muscle atrophy. FASEB J. 2009 Feb;23(2):362-70.
Kandarian S. The molecular basis of skeletal muscle atrophy – parallels with osteoporotic signaling. J Musculoskelet Neuronal Interact. 2008 Oct-Dec;8(4):340-1.
Koncarevic A, Jackman RW, and Kandarian SC. The ubiquitin-protein ligase Nedd4 targets Notch1 in skeletal muscle and distinguishes the subset of atrophies caused by reduced muscle tension. FASEB J. 2007 Feb;21(2):427-37.
Judge AR, Koncarevic A, Hunter RB, Liou H-C, Jackman RW, Kandarian SC. Role for IkBa, but not c-Rel, in skeletal muscle atrophy. Am J Physiol Cell Physiol. 2007 Jan;292(1):C372-82.
Kandarian SC, Jackman RW. Intracellular signaling during skeletal muscle atrophy. Muscle Nerve. 2006; 33; 155-165